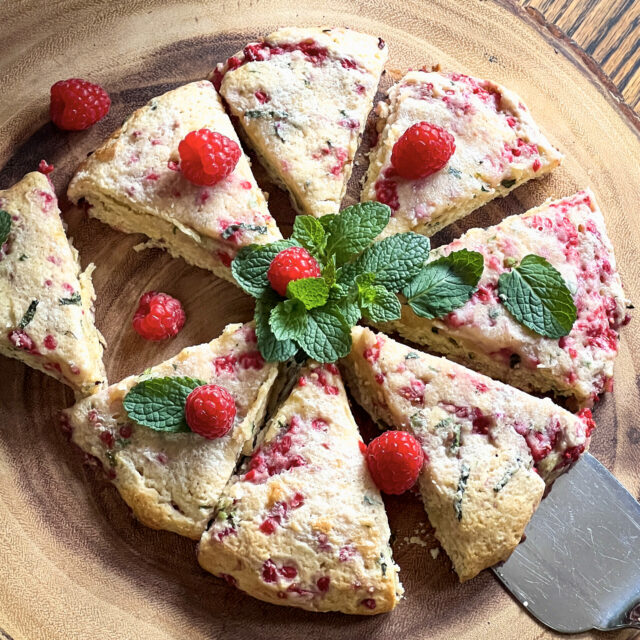 Easy Raspberry Mint Scones
22 minutes
|
Yield:

8 Servings
Scones are the perfect addition to any brunch or tea time, and with a simple recipe using Bisquick™, Mint and fresh raspberries it's an easy treat for the family to make.
Ingredients
2 cups original Bisquick™ mix.
1/2cup fresh raspberries
1/2 fresh chopped mint
1/3cup whipping (heavy) cream
3tablespoons sugar
1 egg
1 teaspoon vanilla
Additional whipping (heavy) cream
Additional sugar
Directions
Heat oven to 425°F. Spray cookie sheet with cooking spray or grease with shortening. In a medium bowl, stir Bisquick mix, 1/3 cup whipping cream, 3 tablespoons sugar, egg, and vanilla until soft dough forms.
Gently blend in raspberries and chopped fresh Mint into dough. Stir lightly to keep raspberries from bursting.
Pat into an 8-inch circle on a cookie sheet (if dough is sticky, sprinkle with flour or additional Bisquick mix). Brush lightly with additional whipping cream, and sprinkle with additional sugar.
Dip a knife in flour or mix before cutting the scones to prevent the dough from sticking. Cut dough into eight equal wedges, cutting into, but not through, the dough. This allows the wedges to bake as one large scone; they'll be moister than scones baked separately.
Bake for about 12 minutes or until golden brown; carefully separate. Serve warm.
Note: Top with raspberry jam or fresh whipping cream for added indulgence.
Gallery