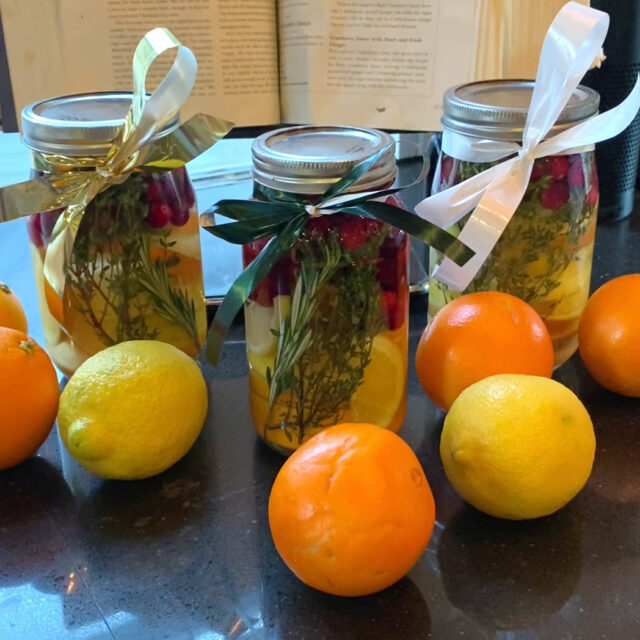 Fill your home with the delicious smell of the holidays with this DIY Stovetop Potpourri! Pour this gorgeous concoction into a pot, have it simmer on low and enjoy the magical aroma. Makes for a lovely present! We've even heard a rumor that with a little SPIKE, this makes a great, festive cocktail. This is super easy to whip up quickly! Use your best judgement on how much you need to fill your jar - there is no wrong way!
Ingredients
Jar. Any brand, any size.
Sliced Oranges
Sliced Lemons
Cranberries
Fresh Rosemary
Fresh Thyme
Whole Cloves
Water
Whatever else brings you holiday bliss!
Directions
First, get a clean jar.
take however many sprigs of Rosemary and Thyme you'd like and put them in your jar.
Slice your oranges and lemons. Once completed, slide them into your jar.
Grab a handful or two of cranberries and put them on top of your citrus. These little guys tend to float, so having them on top is best.
Fill the remaining space in your jar with water.
Screw the lid back on, dress it up, give it a bow, make it your own!
When ready to fill your home with the smell of holiday spirit, just empty the entire jar into a pot on your stovetop. Bring it to a simmer and let the aroma fill you with cheer! Should the water evaporate too soon for your liking, just add more water to extend your simmer session.
If you're feeling extra spirited, you can turn this into a quick cocktail! Simply pour your simmered liquid into a glass, add a splash of simple syrup, your favorite spirit, and top with a sprig of rosemary and maybe a cranberry or two. Last step, enjoy!