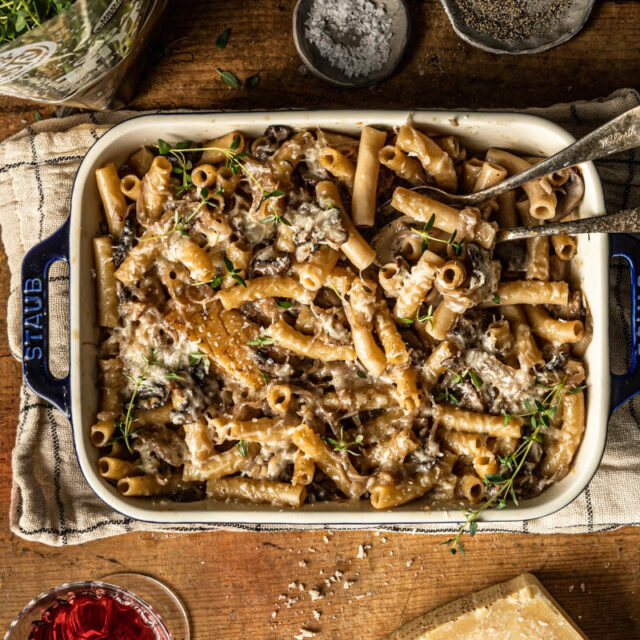 Creamy French Onion Pasta Bake
50 minutes
|
Yield:

4 servings
This dish is a perfect combination of french onion soup and pasta with the added earthy flavor of fresh Thyme. It's quick and easy to make and sure to be a crowd pleaser.
Ingredients
Avocado oil + butter, or use just avocado oil
Yellow onions
Balsamic vinegar
Dry red wine
Broth. Vegetable, beef, or chicken. They all work great.
Baby Bella mushrooms
Garlic
Living Organic Thyme
Heavy cream or full-fat coconut milk
Pasta of choice. (Ziti works well)
Cheese, we like a combination of gruyere and parmesan
Directions
Add oil and butter to a large pot. Add onion and a generous pinch of salt. Cook on medium-high heat until softened, about 8 minutes, stirring frequently.
Pour in balsamic vinegar and 1/2 cup wine, a splash at a time. Keep cooking and stirring until onions are caramelized around 10-12 minutes.
Add garlic, mushrooms, Living Organic Thyme and cook for a couple of minutes. Pour in broth, cream. Add a generous pinch of salt and pepper and pasta. Bring to a boil. Then, add pasta, cover, and cook until pasta is al-dente about 8-10 minutes, frequently stirring to make sure pasta cooks evenly.
If using a dutch oven, sprinkle cheese on top and bake at 350F for 10 minutes or transfer pasta to a baking dish. Garnish with fresh thyme..