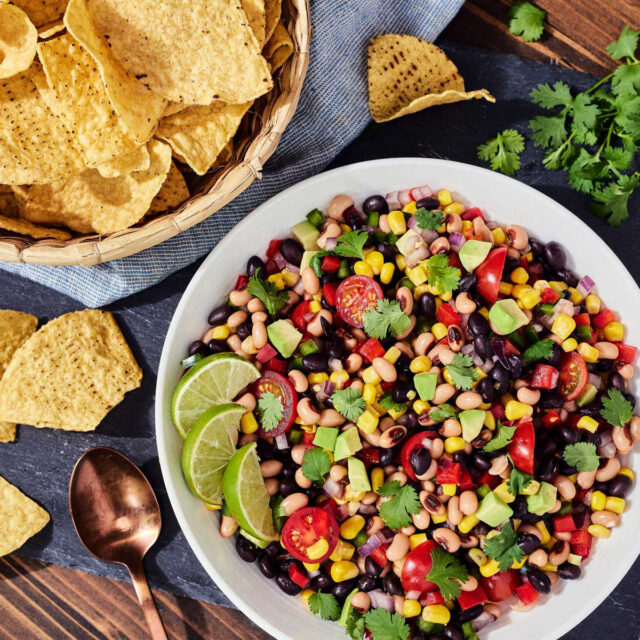 Cowboy Caviar made with our organic Cilantro. Serve with chips for the ultimate summer appetizer!
Ingredients
1 1/2 cups cooked black beans, drained and rinsed
1 1/2 cups cooked black-eyed peas, drained and rinsed
2 cups cherry tomatoes, halved
1 cup corn kernels
1 red bell pepper, stemmed, seeded and diced
1/2 cup diced red onion
1 medium jalapeño pepper, finely chopped
juice of 1 lime
2 large avocados, pitted and diced
1/4 cup Soli Organic Cilantro
tortilla chips, for serving
Directions
In a large bowl, stir together the black beans, black-eyed peas, tomatoes, corn, bell pepper, onion, jalapeno, and lime juice.
In a small bowl, mix together the vinegar, oil, cumin, cayenne, honey, garlic, salt, and pepper. Pour the dressing over the bean mixture. Fold in the avocado and cilantro, and season to taste.
If time allows, refrigerate for 1 hour to allow the flavors to marry. Serve with tortilla chips.
DRESSING
2 tablespoons plus 1 teaspoon red wine vinegar
2 tablespoons extra-virgin olive oil
1 teaspoon cumin
1/2 teaspoon cayenne
½ teaspoon honey
1 clove garlic, minced
1 1/2 teaspoons sea salt
½ teaspoon ground black pepper
Gallery