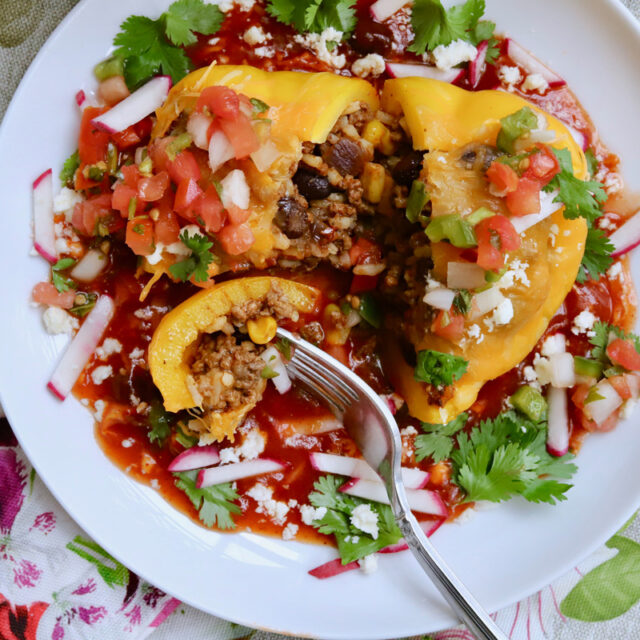 Cowboy Caviar Stuffed Peppers
1 hour
|
Yield:

8 Stuffed Peppers
Cowboy Caviar Stuffed Peppers are fully loaded with savory ground beef, satisfying grains, roasted corn, smooth beans, and gently nestled in a sea of spicy goodness. They're easy to make and reheat nicely, making them a great option for make-ahead meal prep!
Ingredients
1 cup cooked Rice
1 lb. Ground Beef, Turkey, or Chicken
½ Red Onion, diced
1 (1.25 ounce) package of Taco Seasoning
2/3 cup Water
4 Bell Peppers, cut in half and seeds removed
2 cups Enchilada Sauce
1 tbsp. Garlic Purée
½ cup Corn (fresh, canned, or thawed frozen)
1 cup Black Beans
½ cup Black Eyed Peas
1 (10 ounce) can diced Tomatoes with Green Chilies, drained
2 cups shredded Mexican Cheese Blend
Suggested Toppings
Organic Cilantro
Fresh Radishes, sliced
Salsa or Pico De Gallo
Fresh Jalapenos, sliced
Queso Fresco or Feta, crumbled
Fresh Avocado or Guacamole
Sour Cream or Greek Yogurt
Tortilla Chips, for serving
Directions
Cook rice to its packaged directions.
Meanwhile, cook ground meat and onions in a large pan over medium heat until browned. Drain any access fat and add the taco seasoning and water. Bring to a boil and then reduce to a simmer until the liquid is absorbed. This is usually 10 – 15 minutes.
While you wait for the liquid to absorb, prep the bell peppers. Once prepped, spread the enchilada sauce in a large baking dish and place the peppers on top.
Mix the rice, meat, garlic purée, corn, black beans, black eyed peas, and tomatoes with green chilies in a large bowl. Carefully stuff the mixture into the pepper halves.
Preheat oven to 350F. Cover the baking dish with aluminum foil and bake for 40 minutes. Take the aluminum foil off and bake for an additional 5 – 10 minutes. When finished, cheese should be melted, and the peppers will be tender.
Serve each pepper on a bed of the enchilada sauce and garnish with your favorite toppings from our suggestions above (psst: especially the cilantro!).
Depending on the size of your bell peppers, you may have some leftover filling. Go ahead and use it for burritos, sautéed with eggs, or on top of taco salads.
Not a fan of rice? You can substitute with quinoa, couscous, or whatever grain you prefer. Are you doing low-carb? Use cauliflower rice!
In order to save time on prep, we used canned black beans and black eyed peas in this recipe. Just make sure to rinse and drain them before adding to the filling mixture.
Don't have a can of diced tomatoes with green chilies? Substitute with 1 cup of your favorite chunky salsa.
Both red and white onions work well in this recipe. Use whichever one you prefer.
To add a depth of flavor, you can roast the corn before adding it to the beef mixture.