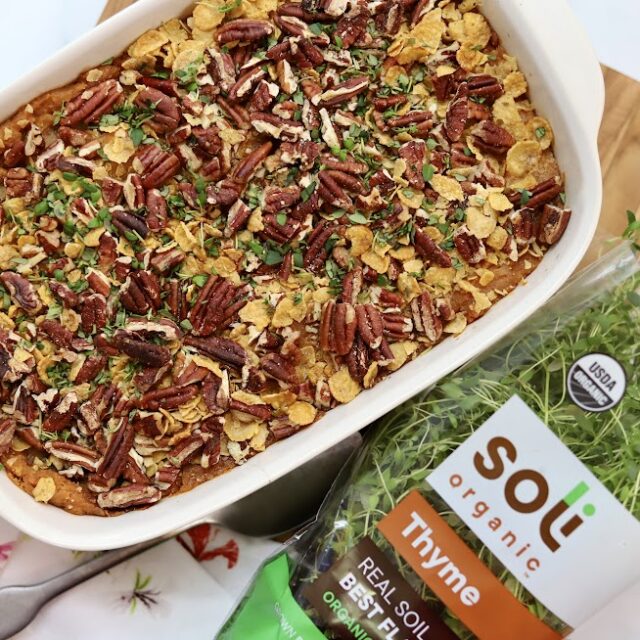 Cornflake Crusted Sweet Potato Casserole
This classic Thanksgiving favorite combines sweet and salty flavors with a crunchy topping for a melt-in-your-mouth experience.
Ingredients
FOR THE CASSEROLE:
5 Large Sweet Potatoes, peeled and cubed
2 Eggs
1/4 cup Unsalted Butter, softened
1/2 cup Half and Half
3/4 cup Brown Sugar
1 tsp. Vanilla Extract
1 tsp. Salt
1/4 tsp. Ground Nutmeg
1/4 tsp. Cinnamon
FOR THE TOPPING:
1 cup Cornflakes, crushed
1 cup Chopped Pecans
4 tbsp. Unsalted Butter, melted
2 tsp. Soli Organic Fresh Thyme Leaves
Directions
Preheat the oven to 375F.
Prepare the sweet potatoes by placing them in a large saucepan and covering with water. Bring to a boil and continue to cook until softened, about 12 minutes. Drain and transfer to a large bowl.
Mash the sweet potatoes and then add the eggs, 1/4 cup unsalted butter, half and half, brown sugar, vanilla extract, salt, nutmeg and cinnamon. Mix together until well combined.
Transfer the mixture to a 9x13-inch casserole dish. Top with crushed cornflakes, chopped pecans and drizzle with 4 tablespoons of melted butter. Bake until lightly browned, about 30 minutes.
Sprinkle with fresh thyme leaves before serving.
Gallery