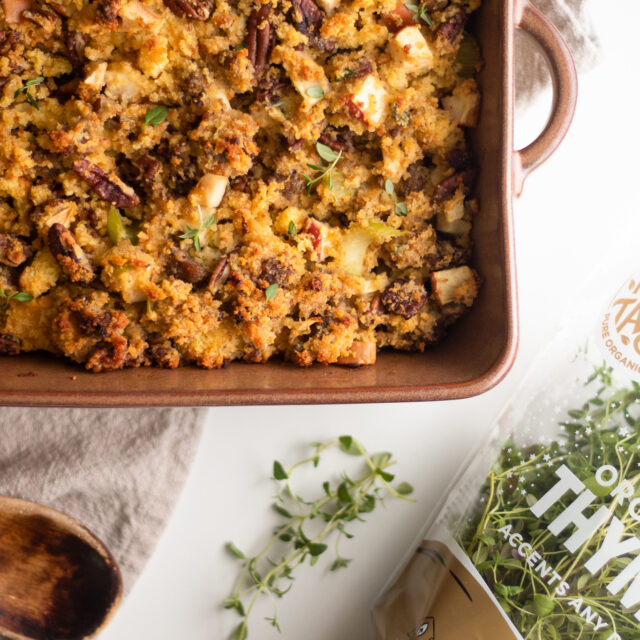 Cornbread Stuffing
1 hour
|
Yield:

6-8 Servings
Not your average stuffing recipe, this is the ultimate side dish! Loaded with sweet cornbread, savory sausage, crunchy pecans, and the most incredibly fresh thyme and sage!
Ingredients
Living Organic Thyme and Sage
Cornbread (can be store-bought or homemade, whatever is easiest for you!)
Sweet Italian Ground Sausage
Yellow Onion
Celery
Gala Apple
Pecans
Chicken Broth
Eggs
Salt, pepper, and garlic powder to taste
Directions
Start off by preheating the oven to 400 degrees.
Next, make sure you have your cornbread ready to go! You can use store-bought or homemade – whatever works best or is easiest for you! Whatever you use, just be sure to dice it into cubes.
For this recipe, I think it's personally best to have day-old cornbread! If it's not a day old, no worries. You can always toast the cubes in the oven to let them have more of a "stale" texture.
Once the cornbread is diced into cubes, be sure to add it to a large bowl – and I'm talking large! Lots of ingredients are going to be added to this bowl.
Dice up the celery and onion and add it to a pan with butter – cook that down for a few minutes and then add in the ground sausage. I chose a sweet Italian sausage but if you wanted to spice things up a little, you could always use hot Italian sausage or even country sausage.
Let the sausage cook until it's fully done. Then add it directly into the bowl with the cornbread.
Dice up an apple as well as roughly chop pecans. Add both into the bowl.
Add in the chicken broth and beaten eggs.
Then add the freshly minced Living Organic Thyme and Sage, picked straight from the plants.
Add a pinch of salt and pepper as well as garlic powder – about ½ tsp salt, ½ tsp garlic powder, and a dash of pepper to taste – but I always say to season with the heart! 🙂
Mix all together in the bowl! It's going to look weird and maybe a little mushy but just trust me, the end result will be amazing!
Finally, grab your favorite 13×9 baking dish and butter it well. Add the mixture directly to the pan and spread it out evenly.
And time to bake! Bake for 35-40 minutes, until the middle, has just set. The top will be crispy and golden brown and the middle will retain that perfectly soft and delightful stuffing texture you hope for.
And of course – for both aesthetic and flavor, you must top with extra herbs! Adding more Living Organic Thyme adds a pop of both freshness, flavor, and beautiful color!