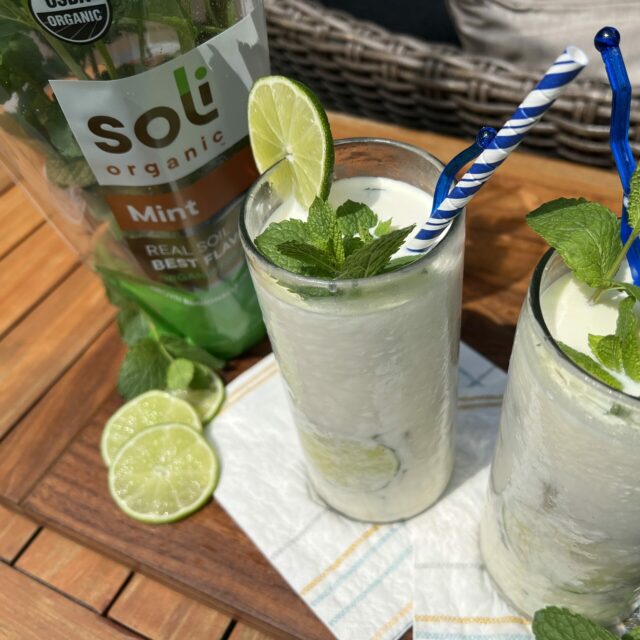 Coconut Cream Mint Mojitos
5 minutes
|
Yield:

1 drink
A tropical twist on the traditional mojito, this Cuban cocktail featuring fresh mint and coconut is sure to refresh on hot summer days.
Ingredients
8 leaves fresh mint
1 wheel lime cut in half
2 teaspoons lime simple syrup or plain
3 oz coconut rum or regular white
1 oz cream of coconut
3 oz club soda
Extra lime juice to taste
garnishes
1 wheel lime
1 sprig mint
Directions
Place mint and lime in a tall glass and carefully muddle together to release the mint oils and fresh juice. Don't grind them up too much or you'll be spitting out tiny pieces of mint!
Fill glass 1/2 full with ice over the muddled ingredients.
Fill cocktail shaker with ice. Pour in simple syrup, coconut rum, and cream of coconut.
Shake for 20 seconds then strain into glass.
Top off drink with club soda and stir carefully. Adjust to taste with a squeeze of fresh lime juice if you like.
Garnish with a lime wheel and a sprig of mint. You can also add a dollop of coconut flakes on top!
If you like, you can make your own lime flavored simple syrup. To make enough simple syrup for this recipe, you will need 1/4 cup water, 1/4 cup sugar and the zest of 1 lime. Boil the sugar and water together and let it cool completely. Stir in the lime zest.
Gallery