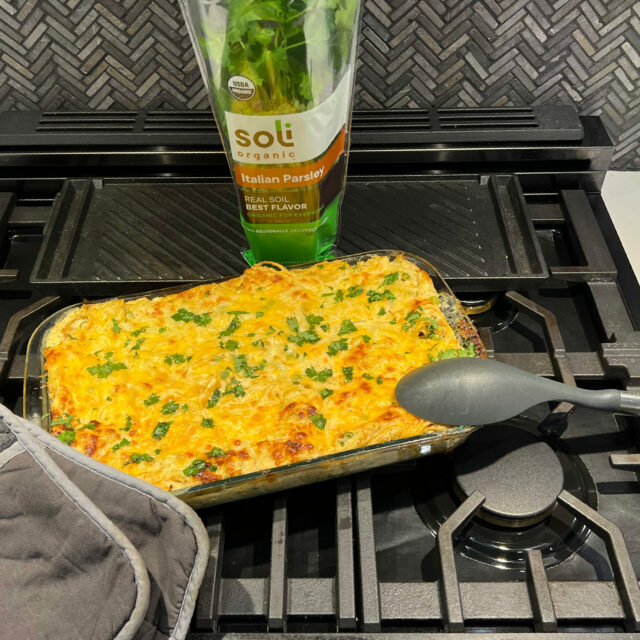 Chicken Tetrazzini with Fresh Italian Parsley
1 hour
|
Yield:

6-8 servings
Easy, creamy and utterly delicious Cheesy Chicken Tetrazzini is a hearty, casserole of comfort.
Ingredients
1 can cream of chicken soup
1 can cream of mushroom soup
2 cups sour cream (low-fat can be substituted)
1/2 cup butter, melted
1/2 cup chicken broth
1 teaspoon salt
1/2 teaspoon pepper
1/4 teaspoon garlic powder
1/2 cup frozen peas
1-pound seasoned cooked chicken cut into bite-sized pieces (use a quality rotisserie chicken if you like)
1-pound thin spaghetti or linguine, cooked al dente
1 cup shredded mozzarella cheese
1/2 cup shredded cheddar cheese
1/2 cup quality grated parmesan cheese
fresh chopped Soli Organic Living Italian Parsley for garnish
Directions
Preheat oven to 350 degrees F.
Coat a 9×13 baking dish with nonstick cooking spray

In a large bowl, whisk together soups, sour cream, butter, chicken broth, salt, pepper, and garlic powder until combined.

Stir in the peas, chicken, and spaghetti; toss to combine until fully coated.

Pour mixture into baking dish and top with the cheeses.

Cover with foil and bake for 45 minutes, then remove foil and continue baking for another 15 minutes until the cheese is melted and the casserole is hot throughout. You may switch to broil for the last 4 or 5 minutes to brown the top (pay close attention to avoid burning).

Remove from oven and sprinkle with chopped Italian Parsley. Let stand for 5-10 minutes.

Gallery