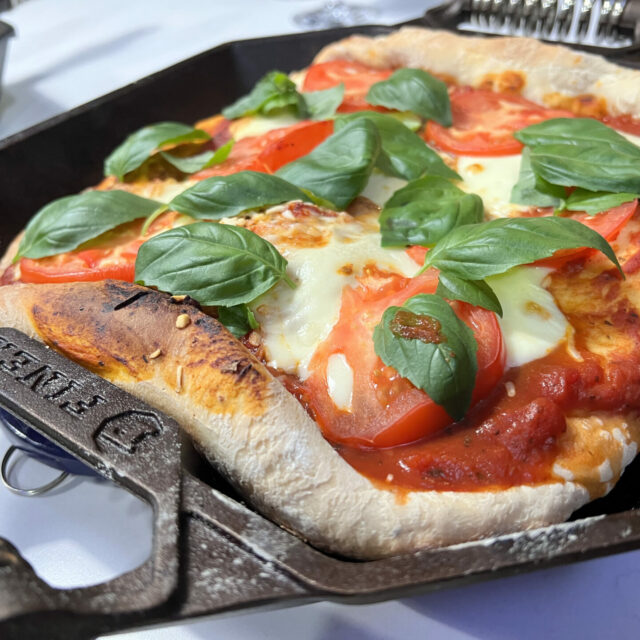 Cast Iron Margherita Pizza
20 minutes
|
Yield:

2 pizzas
It's all about the crispy crust. Cast iron pizza delivers the crunchiest crust you can imagine. When baking in a cast-iron skillet at a high temperature, the pan gets super-hot, and the crust gets super crispy. When the pizza comes out of the oven, top it with fresh basil and enjoy.
Ingredients
Two (1-pound) balls of store-bought pizza dough or your Dough recipe of choice
Cheese: fresh mozzarella, pecorino, parmesan
Marinara sauce
Olive oil
Italian seasoning
Fresh Basil Toppings of choice (we choose tomatoes and pepperoni to go with our fresh basil)
Directions
Apply a generous amount of olive oil to the bottom of the pan and wipe it along the sides of the pan. Preheat your oven with your oiled cast iron inside 475 for about 15 minutes.
When the pan is up to temperature, carefully bring the pan out and transfer your rolled-out dough and toppings into the pan.
Roll out your dough to a size that will hug the edges of your chosen cast iron pans.
Transfer dough to the skillet and cautiously adjust to fill the pan.
Spread a thin layer of marinara sauce on the dough and season with a light dusting of Italian seasoning, garlic powder, salt and pepper to taste, and any other spices you enjoy on your pizza.
Add thinly sliced tomato sliced cheeses and other toppings
Bake for approximately 14 minutes, keeping a close eye not to burn the crust. If you see the crust browning too quickly, you can reduce the oven temperature to slow the cooking process. Make sure the dough is cooked through and remove from the oven. You can leave the pizza in the hot cast iron for a few additional minutes to allow it to cook further. Remove from pan and transfer to a cutting board.
Top with fresh basil, slice, and enjoy.
Protect your counters with a hot plate when bringing the cast iron out of the oven. Lift your pizza out of the cast iron with two spatulas to a cutting board before cutting.
Gallery