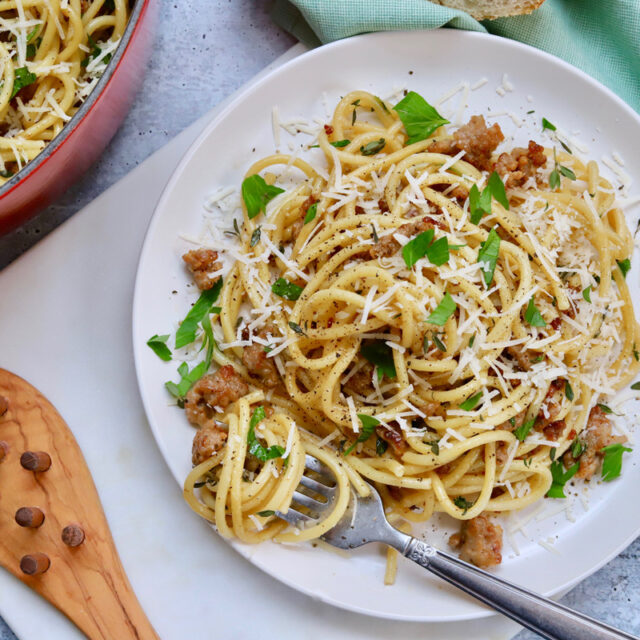 Brown Butter Pasta with Sausage and Herbs
25 minutes
|
Yield:

6-7 servings
When it comes to comfort food, there's nothing more fulfilling than a big bowl of noodles. This Brown Butter Pasta is rich, nutty, salty, and oh-so-satisfying.
Ingredients
2 tbsp. Kosher Salt
1 lb. Boxed Pasta Noodles
1 lb. Mild Italian Ground Sausage
1 stick Unsalted Butter (8 tbsp.)
½ cup reserved Pasta Water
1 cup Freshly Grated Pecorino or Parmesan
1 tbsp. Organic Garlic Purée
Freshly Ground Black Pepper, to taste
3 Tbsp. chopped Organic Fresh Italian Parsley Leaves
1 Tbsp. Organic Fresh Thyme Leaves
Directions
Bring a large pot of heavily salted water to a rolling boil. Add pasta noodles and cook according to the package directions for al dente.
While the noodles are cooking, brown the sausage and drain any access oil. Set aside until you're ready for assembly.
In a large skillet or Dutch oven, melt the butter over medium heat. Continue to scrape the bottom with a wooden spoon until golden brown bits form and you smell a nutty aroma. This usually takes about 3 minutes. Be very careful not to burn the butter, otherwise you'll need to start over. Once browned, remove from heat immediately.
Once cooked, reserve about ½ cup of the starchy pasta water before draining. Add noodles to the skillet and toss together with brown butter. Sprinkle in about 3/4 cup of cheese and a big squeeze of Organic Garlic Purée. Using tongs, stir the noodles with 2 – 3 tbsp. of starchy pasta water. Continue to stir, until a glossy sauce has formed. Feel free to add more or less pasta water to reach your desired sauce consistency. Typically, you will not use the entire 1/2 cup.
When sauce has formed, go ahead and mix-in the cooked sausage and fresh herbs. Serve with lots of freshly cracked black pepper, remaining cheese and additional fresh herbs.