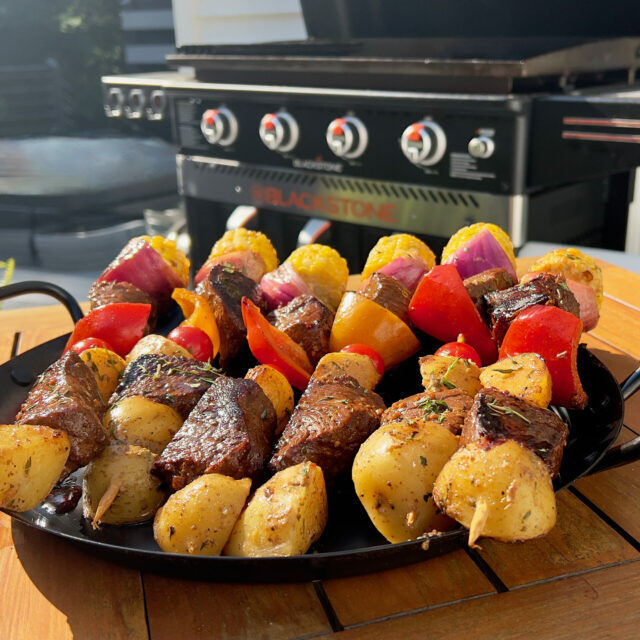 Blackstone Steak Kabobs With Rosemary, Italian Parsley and Basil
1 hour
|
Yield:

4-6 SERVINGS
These delicious Steak Kabobs, complemented by fresh corn and potatoes, offer a complete and satisfying meal that combines juicy, grilled steak with the sweetness of corn, the heartiness of potatoes and the flavors of fresh herbs in every delightful bite.
Ingredients
Best Beef Kabob Marinade
1/4 cup Worcestershire sauce
1/4 cup soy sauce
1/4 cup olive oil
1 Tablespoon dijon mustard
1 Tablespoon minced garlic
1 Tablespoon brown sugar
2 Tablespoons lemon juice
8 leaved chopped Soli Organic Living Basil
1 small bunch chopped Soli Organic Living Italian Parsley
1 teaspoon black pepper
Kabobs
1 1/2 pounds sirloin steak or sirloin tips cut into 1-inch cubes
1 pound baby Yukon gold potatoes cubed
4 Tablespoons olive oil
4 Tablespoons dijon or whole-grain mustard
3 Tablespoons Soli Organic Living Rosemary
4 Cobs of corn cut into 2.5" pieces
1 red onion cut into 1-inch cubes (about 3 onion layers each)
1-pint cherry tomatoes
2 green bell peppers cut into 1-inch pieces
Directions
In a medium bowl, mix the marinade ingredients together. Reserve 1 tablespoon of the marinade.
Combine meat and marinade (minus a reserve of 2 or 3 tablespoons) in a 1-gallon freezer plastic zip-tight bag, seal, and massage to coat well. Place in the refrigerator for 2-6 hours to marinate.
NOTE: at least 1 hour prior to cooking the kabobs, add your wooden skewers in water.
Boil cubed potatoes in a large pot of salted water until just tender enough to pierce with a fork with some resistance (do not overcook), about 6-8 minutes. Drain, and put them in a gallon freezer Ziplock bag. Add olive oil, rosemary, and mustard and refrigerate until assembly of kabobs.
Microwave corn for 3 minutes (it may be easer to cut into sections after microwave).
When the meat is thoroughly marinaded, preheat the Blackstone grill or traditional grill to high heat while preparing the kabobs. Drizzle vegetables with the reserved marinade.
Thread alternating pieces of meat (save the left over marinade in the bag to drizzle on the kabobs as they cook, vegetables, and potatoes until the skewers are filled, aiming for 4-5 pieces of steak on each skewer. Place a piece of corn at the beginning and end of the skewer (this provides an excellent place to use tongs to turn them as they cook).
Place kabobs on the grill directly over the heat and reduce heat to medium-high with the lid closed. Grill for 8-12 minutes, flipping every 4 -6 minutes, until the meat is cooked medium-rare to medium and the vegetables start to char just around the edges.
Remove from the grill and rest for 5 minutes before serving.
Gallery