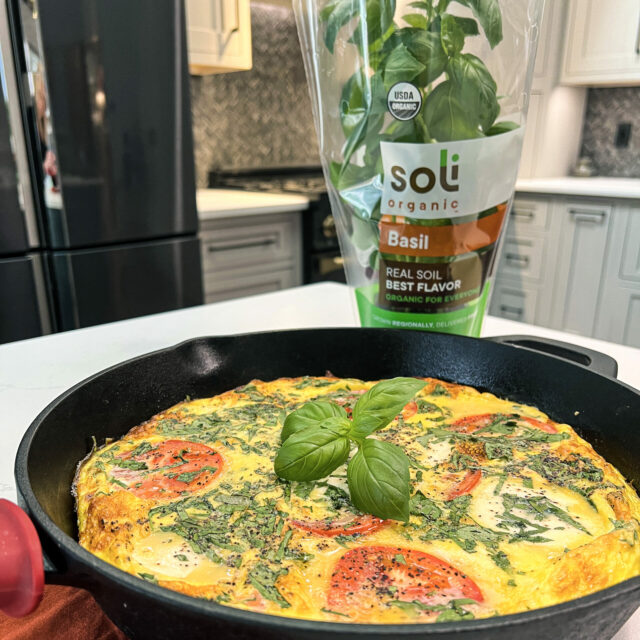 Basil Mozzarella Tomato Frittata
20 minutes
|
Yield:

12 servings
Fresh peppery basil and gooey mozzarella cheese complement red ripe tomatoes and fluffy eggs in this easy-to-make frittata. Don't let the name scare you. Unlike traditional omelets, frittatas are super easy to make and have no flipping involved. And great news, it reheats well for the next day's serving.
Ingredients
12 large eggs
1/2 cup milk
2 tablespoons extra virgin olive oil
4 large ripe tomatoes, sliced and dried to remove any excess water
1 pound fresh mozzarella, diced
½ cup fresh basil leaves chopped
Salt and freshly ground black pepper
Directions
Preheat your broiler.
In a large bowl, beat the eggs with the milk.
Apply olive oil to the bottom of a large, well-seasoned cast-iron pan and heat over medium heat.
Pour the egg mixture into the pan. Place the tomatoes, cheese, and basil over the eggs—season with salt and pepper to taste.
When the bottom begins to brown, place the pan under the broiler until the top is lightly browned and the cheese bubbles (a minute or so). Remove from the oven. Cool, cut into wedges, and serve with fresh fruit.
Feel free to try other ingredients. Parmesan and Spinach would make a nice touch with fresh Italian Parsley.
Gallery