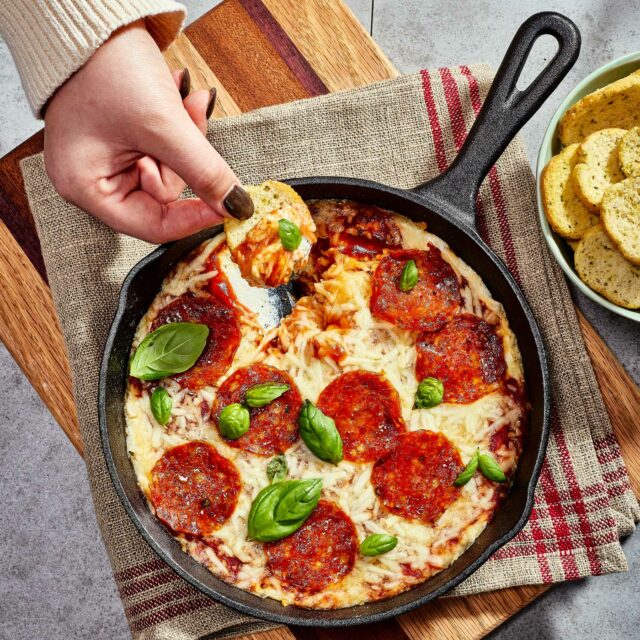 Baked Pizza Dip
40 minutes
|
Yield:

24 Servings
Game day snack meets pizza night! This Baked Pizza Dip made with our fresh, organic Basil is a touchdown on your menu for the Big Game.
Ingredients
1 package (8 ounces) cream cheese, softened
Soli Organic Living Oregano
Soli Organic Living Basil
1 cup shredded part-skim mozzarella cheese
3/4 cup grated Parmesan cheese
1 can (8 ounces) pizza sauce
Pepperonis (optional)
2 tablespoons thinly sliced green onion (optional)
French baguette
Directions
In a bowl, beat cream cheese and fresh chopped Soli Organic Oregano and Basil. Preheat oven to 375F. Spread mixture evenly in a 9-inch cast iron skillet or 9x9 baking dish.
Combine mozzarella and Parmesan cheeses, sprinkle half over the cream cheese. Top with the pizza sauce, remaining cheese mixture, green pepper, pepperonis and onion.
Bake in the 375F degree oven for 25-30 minutes until hot and bubbly and cheese starts to brown.
op with fresh basil and let stand for 1-2 minutes, serve with a baguette slices.
Gallery