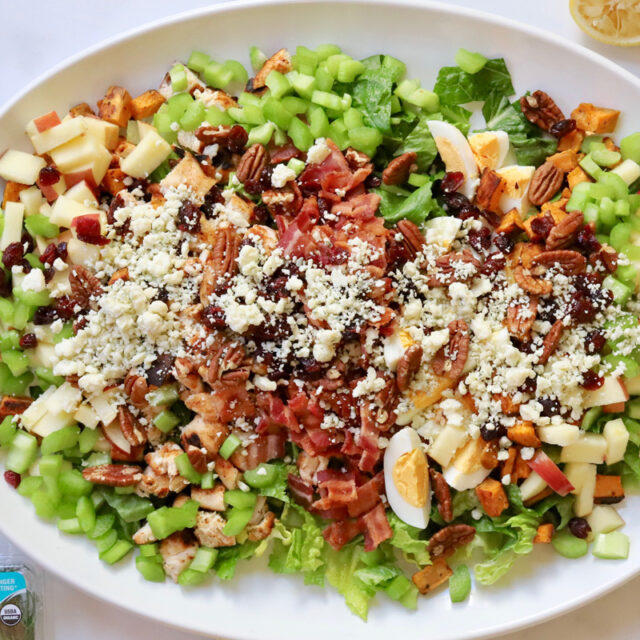 Autumn Cobb Salad
35 minutes
|
Yield:

4 servings
Our Autumn Cobb Salad is full of flavor without the fuss. Serve as a main dish or side salad and watch it quickly disappear.
Ingredients
For the Salad:
6 cups chopped Greens (Romaine, Arugula, Spinach)
1 lb. Chicken Breasts or Tenderloins, cooked & chopped
8 slices Bacon, cooked & crumbled
4 Hard Boiled Eggs, sliced in half
1 Sweet Potato, sliced & roasted
1 Apple, cored & cut into cubes
4 ribs diced Celery (about 1 cup)
½ cup Roasted Pecan Halves
½ cup Dried Cranberries
¾ cup Blue Cheese Crumbles
For the Dressing:
3 tbsp. Bacon Drippings
1/4 cup Extra Virgin Olive Oil
Juice from 2 Lemons
2 tbsp. Fresh Organic Dill, chopped
1 tsp. Dijon Mustard
1 tsp. Fresh Lemon Zest
1 tbsp. Minced Red Onion
Squeeze of Organic Garlic Purée (about 1 tbsp.)
1 tsp. Kosher Salt, to taste
1 tsp. Freshly Cracked Black Pepper, to taste
1 tsp. Brown Sugar, to taste
Directions
If prepping in advance: Grill chicken, cook bacon, boil the eggs, and roast the sweet potato. Place each ingredient in a sealable container in the refrigerator until you're ready to serve. You can also cut the apple and celery in advance as well. *See notes below.
When you're ready to serve, place the lettuce on a large serving platter and garnish with remaining salad ingredients.
Place all dressing ingredients in a mason jar. Cover with the lid and shake vigorously to blend. Drizzle desired amount of dressing over the salad and serve immediately. Store any leftover dressing in the refrigerator for later use.
To roast the sweet potato: Simply cut the sweet potato into small cubes and toss with 1 tbsp. Olive Oil. Season with salt and pepper and roast in the oven at 425F for 25 – 30 minutes. Make sure to flip halfway through.
If you'd like to chop the apple ahead of time, toss it with the juice of one lemon to prevent browning.
When creating your own dressing, it may separate over time. But don't fret… just shake it up again and it'll be like new. Please remember that oils may harden in the refrigerator (and that's ok!). To thaw, just set the dressing out on the counter for 10-15 minutes before shaking up again.