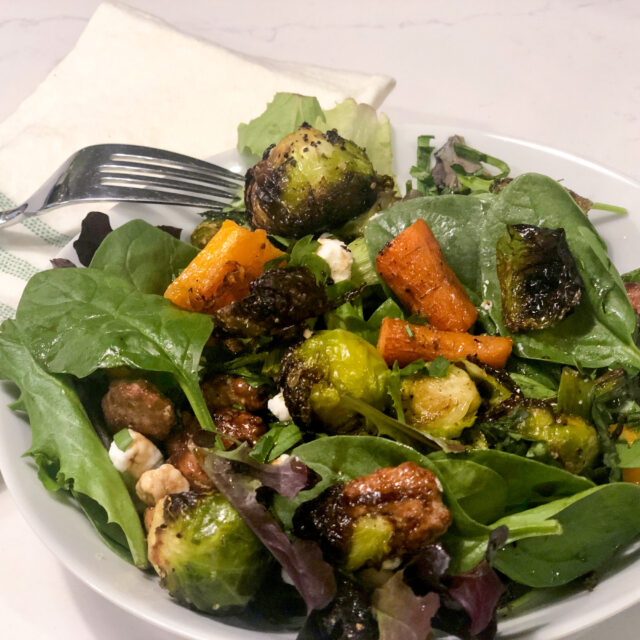 Air Fryer Winter Salad with Roasted Vegetables
30 minutes
|
Yield:

4 servings
Looking for comfort food? In a healthy meal, winter salad with air fryer roasted seasonal vegetables is everything you want.
Ingredients
1 small butternut squash, peeled and cubed
16 oz Brussels sprouts, halved
6-8 asparagus spears
2-4 carrots
1 clove garlic peeled
4 tbsp. olive oil
1 tsp. salt
½ tsp. black pepper
16 oz Spring Mix
½ cup pecans
½ cup goat cheese
¼ cup fresh Italian Parsley
¼ cup fresh Basil
Balsamic reduction
Directions
Preheat air fryer to 375 on roast. Chop all vegetables and place on lined baking sheet. Drizzle with olive oil and salt and pepper to coat. Toss the veggies to combine.
Bake for 15-20 minutes in the air fryer until the veggies are fork-tender.
When veggies are finished, remove them from the oven and allow them to cool slightly.
To serve, create a bed of lettuce in a bowl, top with roasted veggies, sprinkle pecans, goat cheese, and chopped Parsley and Basil over the top. Drizzle with Balsamic Reduction and enjoy.