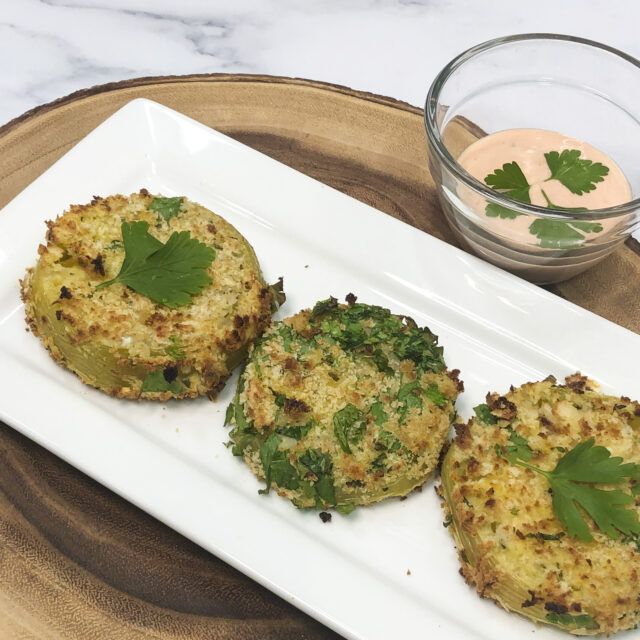 Air Fryer Green Tomatoes
20 minutes
|
Yield:

4 servings
Fried Green Tomatoes with fresh Italian Parsley is a tangy and late summer treat that is super easy to make and a crowd favorite.
Ingredients
Fried Green Tomatoes
2 large green tomatoes sliced ¼ inch thick
½ cup flour
3/4 cup Panko
2 eggs beaten
2 tablespoons fresh chopped Italian parsley
spray oil (we used avocado oil)
Comeback Sauce
1/2 cup mayonnaise
2 tbsp. ketchup
1 tbsp. lemon juice
1 tbsp. hot sauce of choice
1 tsp. Worcestershire sauce
1/4 tsp. black pepper
½ tsp. garlic powder
½ tsp. onion powder
Salt and pepper to taste
Directions
Fried Green Tomatoes
Slice tomatoes and place on a plate. Add flour to a shallow dish.
Beat eggs and place them into a shallow bowl.
Mix Panko and Italian Parsley and place them into a shallow bowl.
Coat the sliced tomatoes front and back with flour. (this will make them extra crispy). Next, place in the panko mixture and coat each side generously.
Spray the air fryer basket with spray. Place the tomato slices in the basket (do not overlap). Spray the tops with spray.
Air Fry at 400˚ F for 8 minutes. Flip slices, spray again with spray, and cook another 4 minutes.
Serve with comeback sauce*, sour cream, or ranch dressing.
Comeback Sauce
Mix all ingredients until smooth.
Cover and refrigerate until ready to use
Gallery