Brown Butter Pasta with Sausage and Herbs
When it comes to comfort food, there's nothing more fulfilling than a big bowl of noodles. This Brown Butter Pasta is rich, nutty, salty, and oh-so-satisfying.
Inspired by the classic dish, Cacio e Pepe, this recipe kicks things up a notch by browning the butter, adding pan-seared sausage crumbles and a hefty sprinkle of fresh herbs. Cacio e Pepe plainly translates to "cheese and pepper" pasta. Everything comes together with a little Pecorino, loads of freshly cracked black peppercorns, butter, and a ladle of starchy pasta water. It's a fool-proof dish that will become a family favorite in no thyme.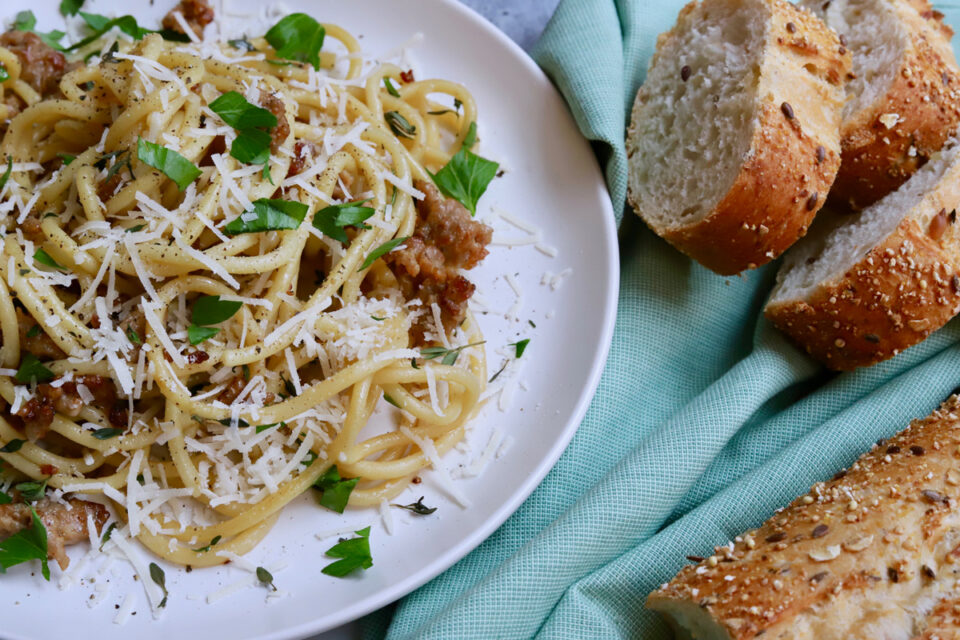 That's Tasty Brown Butter Pasta Ingredients:
PASTA: Any pasta noodle will work with this recipe, so feel free to use whatever you have on hand. We typically make it with bucatini, spaghetti or linguine noodles. Photographed here is bucatini.
BUTTER: Traditionally, Cacio e Pepe uses melted butter for the final dish. We've upgraded this a bit and browned the butter before adding it to the pasta. This gives the recipe a nutty depth of flavor that's incredibly addicting. If you haven't browned butter before, you're in for a real treat.
CHEESE: Pecorino or Parmesan cheeses (or a mix of both) work best for this recipe. In order to avoid clumps in your final dish, you MUST use freshly grated cheese. The stuff in the green can or pre-shredded will not work for this dish.
PASTA WATER: Before cooking the noodles, make sure to add a heaping 2 tablespoons of Kosher salt to the water to help flavor the final dish. When the pasta is finished cooking, use a ladle to collect about a half cup of starchy pasta water to use in a few minutes. This is a VERY important ingredient, so don't forget it!
FRESHLY CRACKED BLACK PEPPER: We love a good serving of black pepper on pasta, as it rounds everything out and tastes phenomenal! Go ahead and add as much pepper as your palate prefers. We typically stick to 2 – 3 teaspoons per pound of pasta.
MILD ITALIAN SAUSAGE: Adding Italian Sausage to this recipe gives it an extra oomph of protein and flavor. Not a carnivore? Not a problem. Swap this out for a can of cannellini beans instead!
FRESH HERBS: Italian Parsley is a hero in heavy comfort dishes during the winter, as it adds a light, herbaceous, slightly bitter flavor. Fresh Thyme blends well with other herbs and brightens the flavor of this dish even more. Another herb that would work well with this recipe is fresh sage. YUM.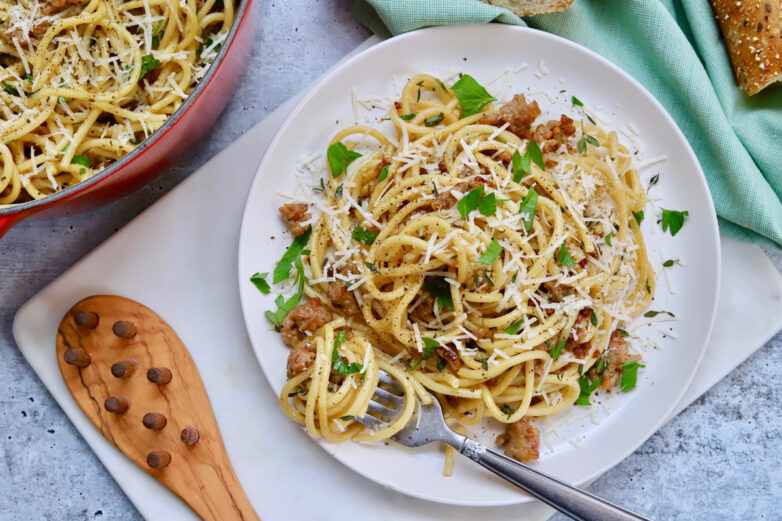 Brown Butter Pasta with Sausage and Herbs
25 minutes
|
6-7 servings
Ingredients
2 tbsp. Kosher Salt
1 lb. Boxed Pasta Noodles
1 lb. Mild Italian Ground Sausage
1 stick Unsalted Butter (8 tbsp.)
½ cup reserved Pasta Water
1 cup Freshly Grated Pecorino or Parmesan
1 tbsp. Organic Garlic Purée
Freshly Ground Black Pepper, to taste
3 Tbsp. chopped Organic Fresh Italian Parsley Leaves
1 Tbsp. Organic Fresh Thyme Leaves