Turkey Club Cheeseburgers with Sun-dried Tomato Aioli
We're revamping that iconic sandwich that everyone loves and turning it into a mouthwatering burger. These Turkey Club Cheeseburgers are great for backyard grilling, entertaining guests at home, or simply served during the busy weeknight hustle.
Without a doubt, this recipe will become a family favorite in no thyme. These glorious patties between two buns are tender, juicy, and melt-in-your-mouth fantastic. Give them a good sear and you've got a meal that everyone will devour. Oh, and did we mention that they have crumbled bits of bacon mixed into the patties? Yes, please.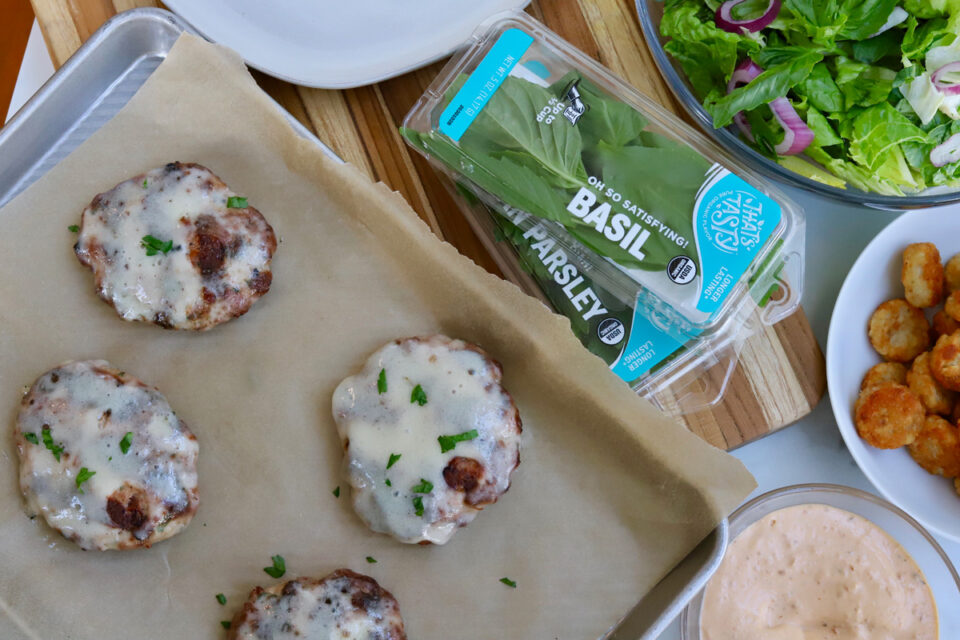 Like most of our recipes, these hunky lads are fully customizable. They taste great on a bun, formed into smaller sliders, or served protein-style with lettuce wraps. Heck, we even swoon when they're shaped into meatballs and served as a hoagie with marinara. The possibilities here are seriously endless.
When it comes to a game-changing recipe, fresh herbs are a must! That's Tasty Organic Italian Parsley is much more than a garnish, it's a vibrant herb that will brighten just about any recipe you add it to. Our organic parsley is available year-round, so we recommend keeping a plant in your kitchen at all times. That's Tasty Organic Basil would also work well in this recipe.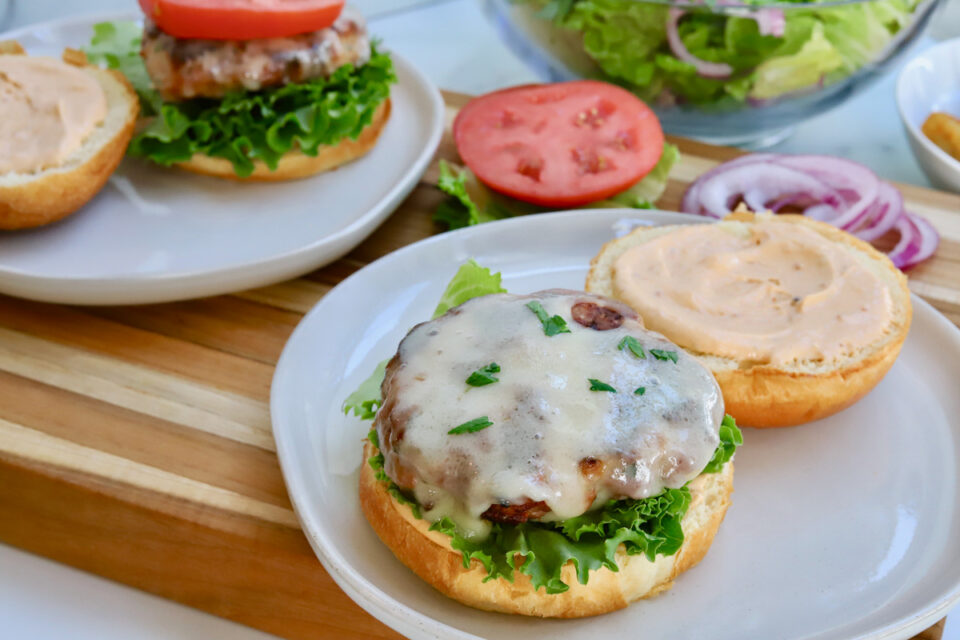 Speaking of year-round, these Turkey Club Cheeseburgers can be cooked on the grill during the hotter months and over the stovetop or oven during the colder season. Either way you choose to cook them, just make sure the internal temperature is 165°F before consuming.
A Few Tips for Making Turkey Club Cheeseburgers:
Do not over-mix the meat. Handle with care and mix until just combined.
Precook the bacon before starting the process of making the burgers. You can do this in the oven, on the grill, or in the microwave.
We found that if you add a tablespoon (or two) of mayonnaise to the burger mixture, the end result is extra moist and juicy. This is just our two cents, but we highly recommend adding this ingredient!
To ensure the patties do not stick the grill, we like to rub the outside of each one with a dab of olive oil. After preheating the grill, you can also oil the grates with grill spray.
Another grilling note: use a metal spatula to slide the patties onto the grates. They can be rather delicate prior to cooking and we'd hate for them to fall apart on you!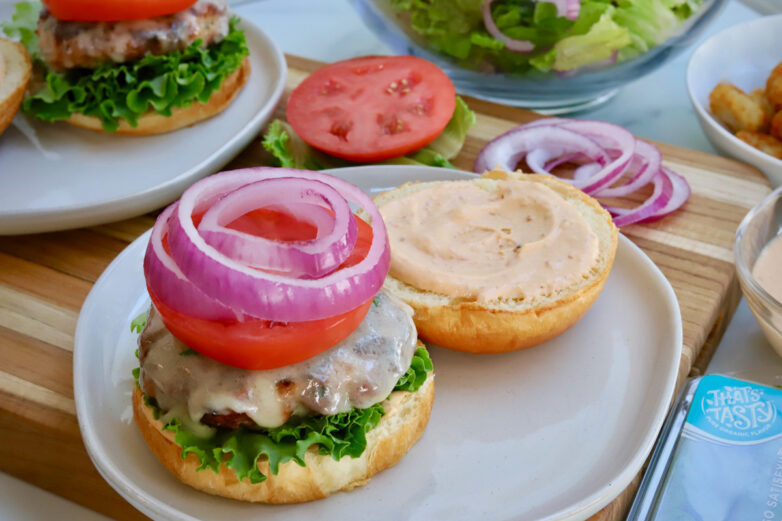 Turkey Club Cheeseburgers with Sun-dried Tomato Aioli
Ingredients
For the Patties:
Ground Turkey
6 slices of Bacon, crumbled
2 tbsp. chopped Organic Parsley
1 tbsp. Garlic Purée
1 tsp. Onion Powder
1 tsp. Worcestershire sauce
1 - 2 tbsp. Mayonnaise (optional)
For the Sun-dried Tomato Aioli:
Mayonnaise
Juice of ½ Lemon
Organic Sun-dried Tomato Purée
For Serving:
Lettuce
Tomato
Red Onion
Swiss cheese
Hamburger Bun