There comes a time in life where a regular hot dog with ketchup and mustard just won't do the trick. You're looking for something adventurous yet comforting. In lieu of traditional condiments, here are three game-changing hot dog toppings that will take your mealtime game to a whole new level.
We're big fans of revamping timeless dishes from our childhood. From Sheet Pan Raspberry Pie to Upgraded Boxed Mac & Cheese, there's something extra special about noshing on classic comfort food we all grew up on.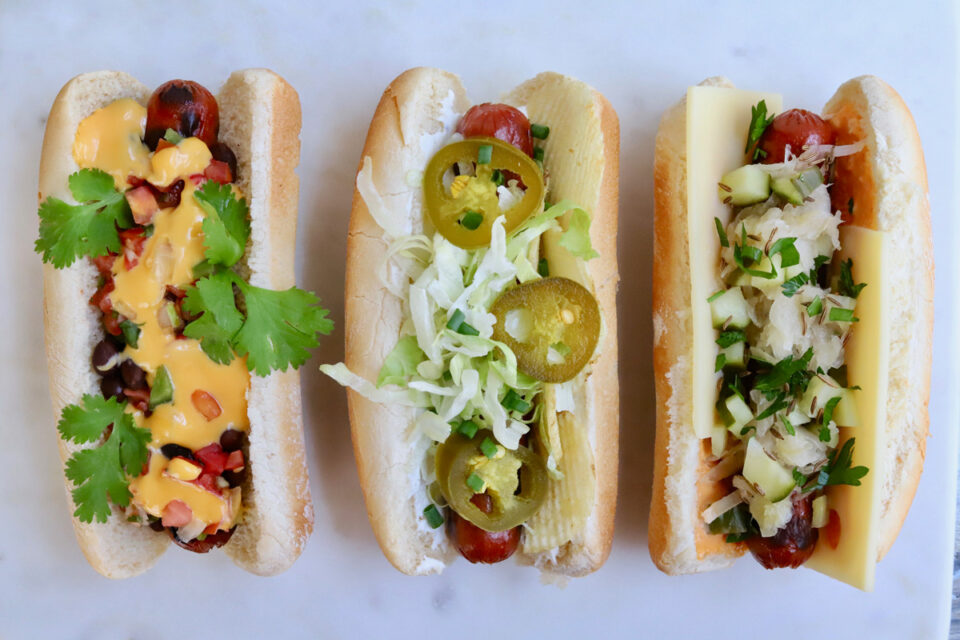 When it comes to dressing up a hot dog, there are a number of tasty versions out there. With no right or wrong recipe, get creative and let the good times roll! Without further ado, here are three hot dog topping combinations that we're loving right now. Load up each hot dog with as much of each ingredient that you prefer; these are fully customizable!
The Tex-Mex Dog:
Everything you love about this fusion phenomenon, served over an American classic.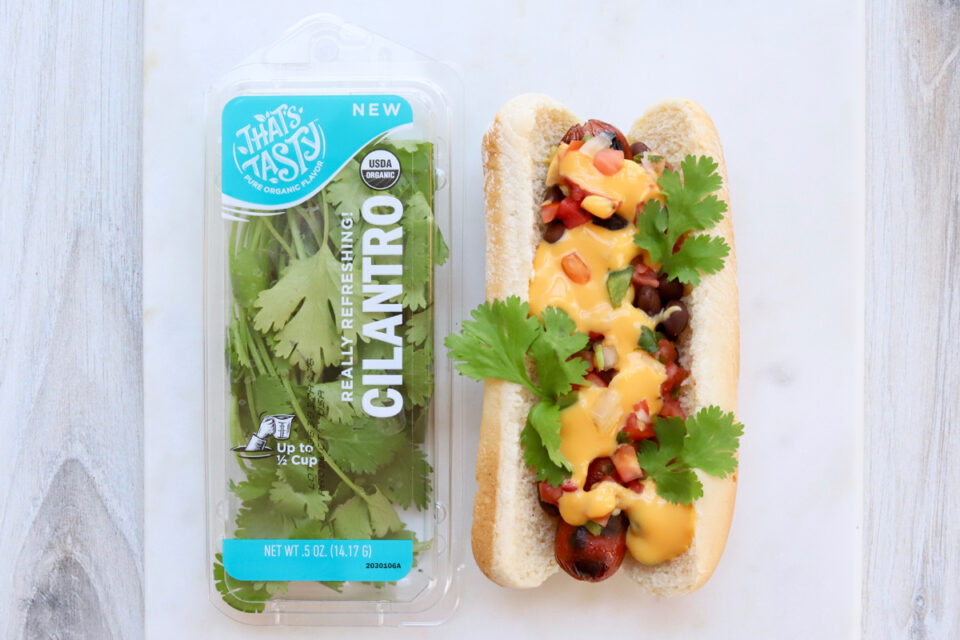 That's Tasty Organic Cilantro – This herb pairs well with any Tex-Mex fiesta! It marries well with citrus and brings a bright bold bite into the mix.
Pico de Gallo Salsa – You can find a premade Pico de Gallo in the refrigerated section of your grocery's produce department. If you'd rather make it yourself, all you need is tomato, onion, cilantro, lime juice and fresh jalapeno.
Black Beans – We love the smooth texture black beans add to this arrangement. Other great options include chili beans, pinto beans, or refried.
Nacho Cheese Sauce – You can find this unapologetic indulgence next to your favorite bag of potato chips at your local grocery store. Once opened, make sure to keep the jar in your refrigerator.
---
The Picnic Dog:
An entire picnic spread that you can hold in one hand.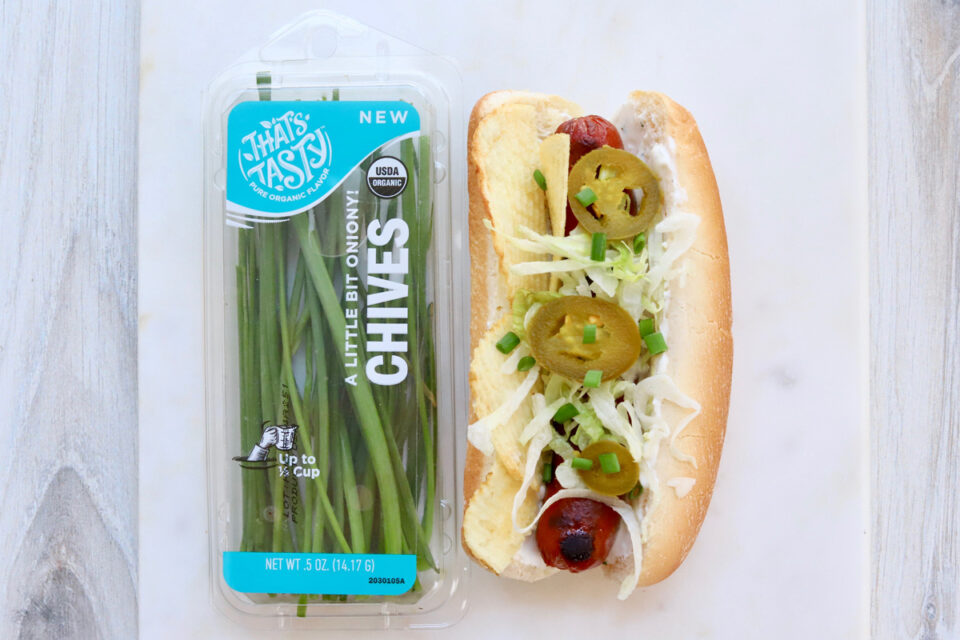 That's Tasty Organic Chives – This herb has a mild onion flavor with hints of garlic. Delish!
French Onion Dip – This is located right next to the nacho cheese sauce in the potato chip aisle. Some grocery chains also offer a refrigerated option in the produce department (next to the fresh salsas).
Potato Chips – Use whatever potato chips you enjoy most. We opted for a salted wavy chip on today's post, but believe that Cool Ranch Doritos, Salt + Vinegar, or even Flaming Hot Cheetos are a good call.
Pickled Jalapenos – These are milder than fresh jalapenos and can be found next to the pickles and olives. Add them for a subtle kick of heat.
Shredded Lettuce – Use iceberg, romaine, or whatever you have on hand. Cole slaw would also work really well in this mashup.
---
The Reuben Dog:
Grilled, cheesy, and sophisticated. Need we say more?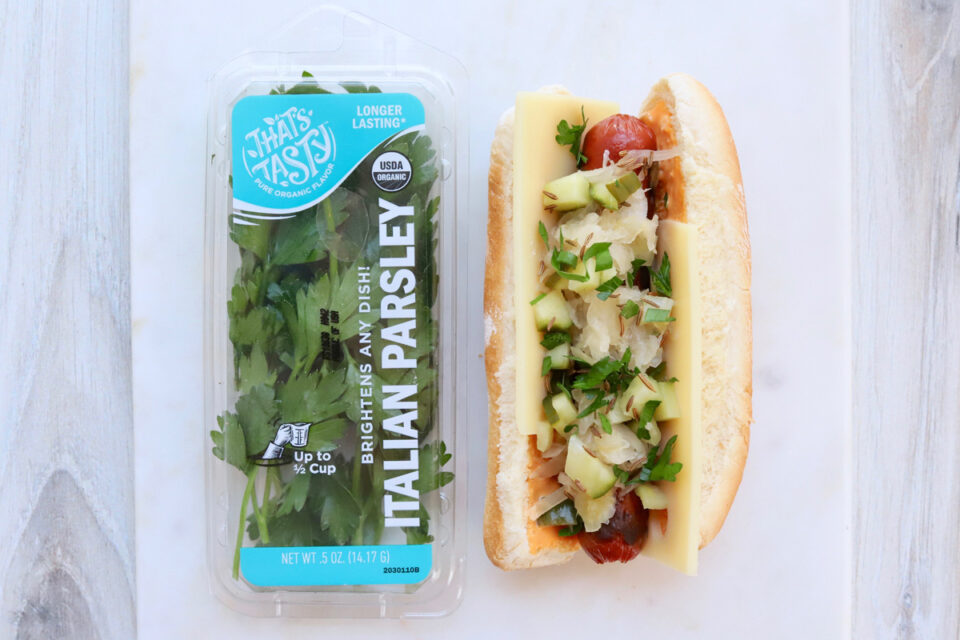 That's Tasty Organic Italian Parsley – This herb has a slightly bitter taste and brings a fresh balance to this recipe's flavor profiles.
Swiss Cheese – One slice of swiss adds a sweet and nutty element to this beloved sandwich-hot dog mashup.
Sauerkraut – Adds a tangy, slightly sour bite. Find this in the canned vegetable section of the grocery store.
Russian Dressing – This dressing is a base of ketchup, mayonnaise, horseradish and a few other spices. If you cannot find Russian Dressing, you can substitute with 1000 Island.
Dill Pickles –This is an optional, but highly recommended topping. Make sure to try our Quick Refrigerator Pickles!
Caraway seeds – This is also an optional ingredient. These aromatic seeds will add a subtle licorice essence.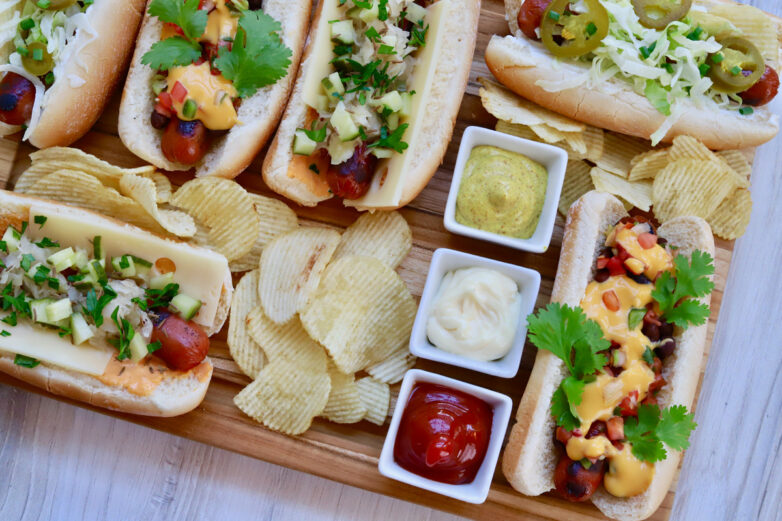 The Dog Days of Summer
Ingredients
Hot Dogs, grilled
Hot Dog Buns
The Tex-Mex Dog
Organic Cilantro
Pico de Gallo Salsa
Black Beans
Nacho Cheese Sauce
The Picnic Dog
Organic Chives
French Onion Dip
Potato Chips
Pickled Jalapenos
Shredded Lettuce
The Reuben Dog
Organic Italian Parsley
Swiss Cheese
Sauerkraut
Russian Dressing
Dill Pickles
Caraway seeds