No Bake Blueberry-Thyme Energy Bites
Ditch that pricey gas station candy bar and pack a batch of our delicious energy bites for your next road trip! Chock-full with vitamins and protein, these snacks will give you the fuel you need to stay energized while you travel to your next destination.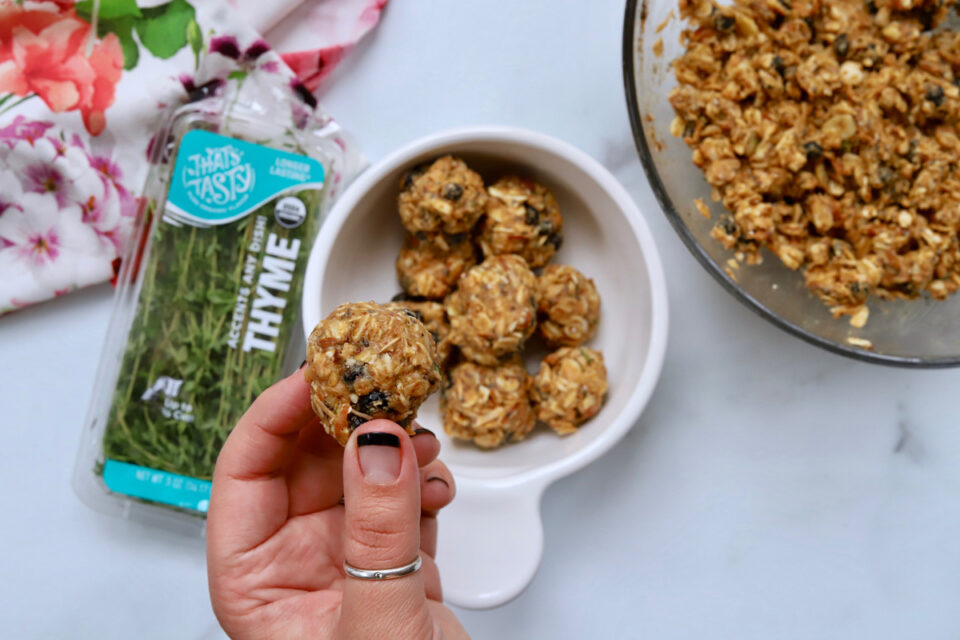 If you're hitting the open road soon, it's important to pack a variety of healthy snacks for your car ride. Sure, it's tempting to grab that bag of candy at the convenience store… it happens to the best of us. However, giving yourself healthy options to graze on during your trip will keep you feeling satisfied and ready to seize the day.
Our Blueberry-Thyme Energy Bites are a perfect, on-the-go snack. They take a matter of minutes to roll together and require absolutely no baking. Say what? Easy-peasy. They're also a great recipe to get your kids in the kitchen to help you!
Energy Bites Have Four Basic Components:
Old Fashioned Oats. These gluten-free grains are a great source of vitamins, minerals and fiber.
Nut Butter. Any nut butter will do the trick. Feel free to use peanut, almond, cashew, or even hazelnut! This adds a good source of healthy fats and protein. Expert Advice: warm the nut butter before adding to the bowl of ingredients.
Sweetener. Here you will want to use honey, agave nectar, or maple syrup. Each have their own health benefits, so use whichever sweetener you like most!
Mix-in Flavors. Here's where the fun starts! We opted for a delightful mix of That's Tasty Organic Fresh Thyme, dried blueberries, sliced almonds, toasted coconut flakes, chia seeds, hemp hearts, ground flax seeds, and a hint of vanilla. Talk about a mouthful of flavor! This last component is completely customizable, so feel free to use whatever you have on hand! Do you prefer the taste of dried cranberries? Try swapping-in cranberries and chopped pecans! The options here are seriously limitless.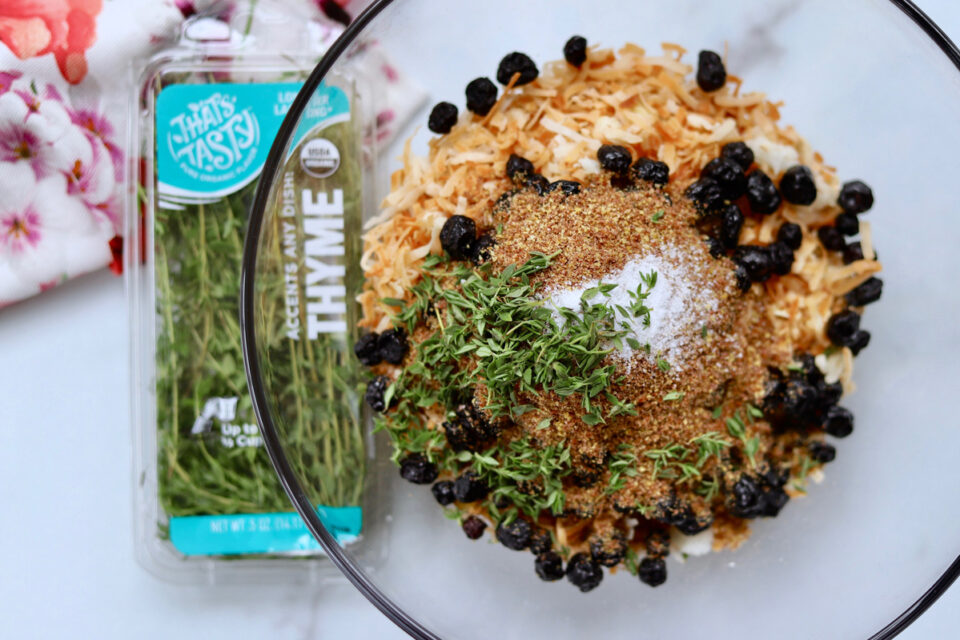 Pairing fresh herbs with fruit can elevate a great recipe to an over-the-top, gotta-have-more-of-that type of situation. Fresh thyme works wonders with all types of berries, so give it a try! Oh, and our fresh basil adds a subtle, sweet essence to all kinds of jams and pies. Mmmm.
Other Healthy Options for Road Trip Snacks:
Fresh and Dried Fruit (Bananas, Oranges, Strawberries)
Fresh Vegetables with Hummus (Carrots, Celery, Broccoli Florets)
Nuts and Seeds (shelled pistachios, sunflower seeds, walnuts)
Trail Mix, Cereal and Pretzels
Applesauce Squeeze Packs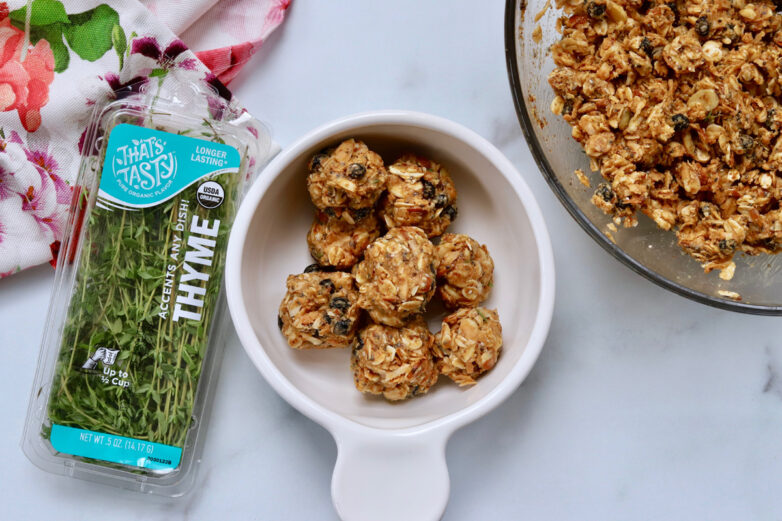 No Bake Blueberry-Thyme Energy Bites
Ingredients
1 cup Old Fashioned Oats 
1/2 cup Almond Slices
1/2 cup Toasted Coconut Flakes
1/2 Cup Dried Blueberries
1/4 cup Ground Flax Seeds
1/4 tsp. Salt 
Up to 1 Tbsp. Fresh Thyme, to taste
1 Tbsp. Chia Seeds
1 Tbsp. Hemp Hearts
1/2 cup of Nut Butter
1/3 cup Honey
1 tsp. Vanilla Extract