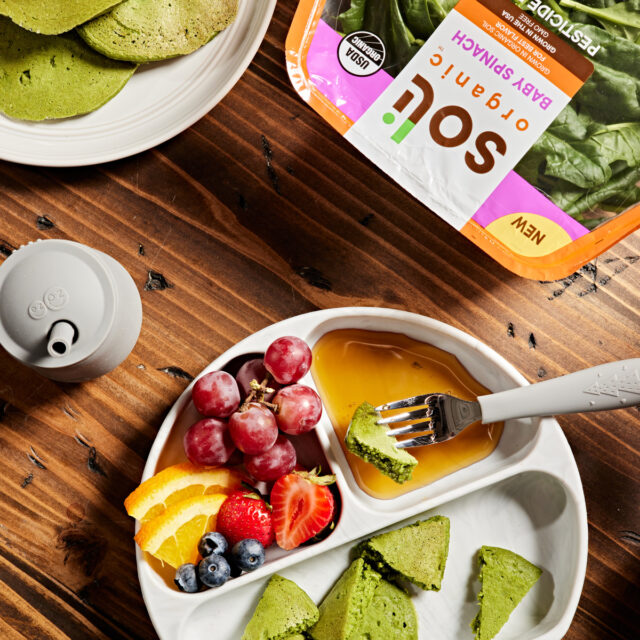 Spinach & Banana Pancakes
Upgrade this weekend's family breakfast and sneak your kids some veggies with these Spinach and Banana Pancakes. The only thing they'll notice is the fun color from blending Soli Organic Baby Spinach into the mix.
Ingredients
2 cups uncooked rolled oats
2 teaspoons baking powder
¼ teaspoon fine salt
1 teaspoon cinnamon
2 large eggs
1/4 cup milk
1 cup mashed ripe banana
2 tablespoons maple syrup
2 tablespoons melted coconut oil or avocado oil, plus more for cooking
1-2 handfuls Soli Organic Baby Spinach, depending on how green you want them
Toppings of your choice
Directions
Add oats, baking powder, salt, and cinnamon to a blender. Blend to a fine powder. Pour into a bowl and set aside.
Combine Soli Organic Baby Spinach, banana, milk, oil, eggs, and maple syrup in the blender. Blend until smooth.
Pour oat mixture back into the blender. Blend until well combined and batter is smooth.
Heat a skillet over medium-low heat and add a little oil. Once hot, portion out the pancake batter into the pan.
Cook until you see small bubbles forming on the top of the pancake and the edges seem dry, about 2 minutes. Flip and cook the other side for another 2 minutes. Place cooked pancakes onto a plate and continue with the remaining batter.
Enjoy warm with toppings of choice!
Gallery