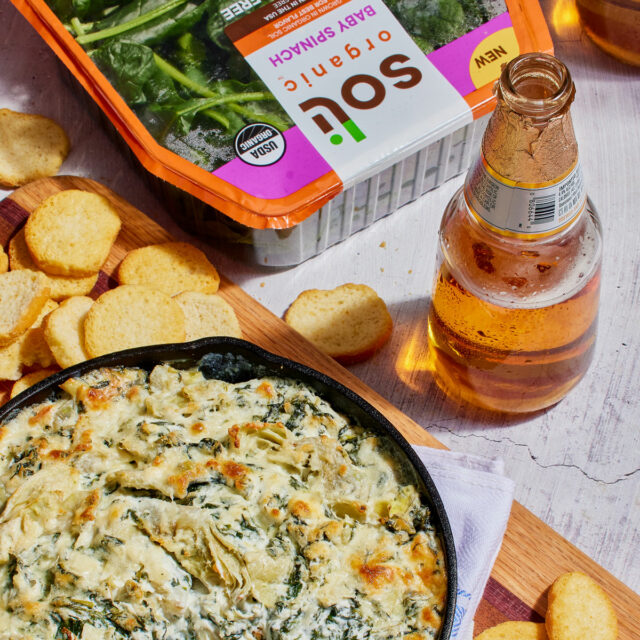 Spinach Artichoke Dip
45 minutes
|
Yield:

6 Servings
Getting together on game day requires delicious homemade snacks for the whole team, and this Spinach Artichoke Dip with fresh Soli Organic Baby Spinach is a must-have!
Ingredients
8 ounces cream cheese, well-softened
½ cup sour cream
¼ cup mayonnaise
1 clove garlic, grated
10 ounces Soli Organic Baby Spinach, blanched
14 ounces artichoke hearts, chopped
½ cup shredded mozzarella
¾ cup grated parmesan
Salt and pepper
Crackers, chips, or bread of choice, for serving
Directions
Preheat your oven to 350° and grease a 2-quart baking dish.
In a large bowl, mix the cream cheese, sour cream, mayonnaise, and garlic until smooth. Add Soli Organic Baby Spinach, breaking it into smaller pieces as you do so. Mix in the artichokes, mozzarella, and ½ cup of the parmesan, and season with salt and pepper.
Pour the dip into the baking dish and sprinkle the remaining ¼ cup of parmesan on top. Bake for 20 to 25 minutes, or until the dip starts to bubble.
Broil for another five minutes, watching the dip while it broils to ensure it doesn't burn. Serve warm with crackers, chips, or toasted bread of choice. Enjoy!
Gallery