Roasted Pumpkin with Rosemary and Sage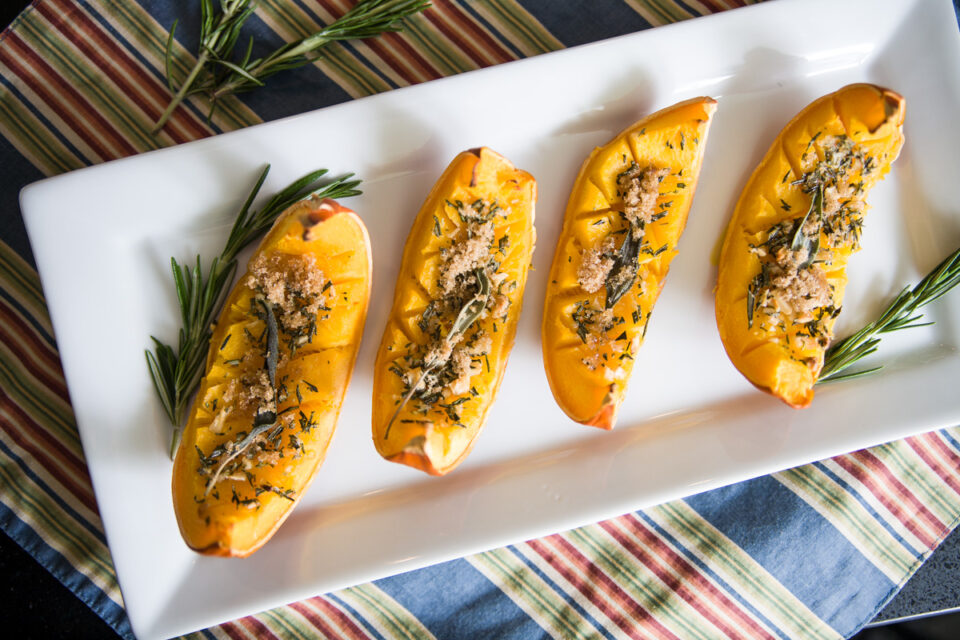 Get into pumpkin season with roasted pumpkin decked out in fresh rosemary, sage, garlic, and brown sugar. A little butter never hurt either. This is a perfect appetizer for Halloween night or an easy side dish for Thanksgiving.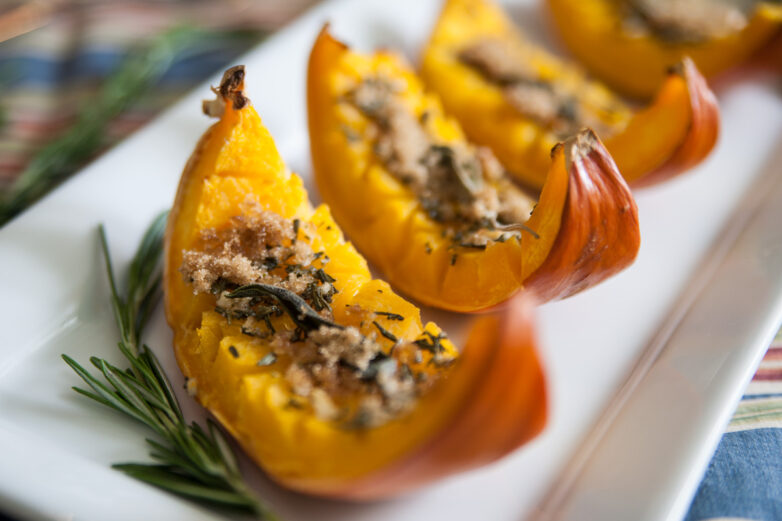 Roasted Pumpkin with Rosemary and Sage
Ingredients
1 small sugar or pie pumpkin (not a carving pumpkin!)
3 tbsp unsalted butter, melted
2 sprigs fresh rosemary
8 leaves sage
1 clove garlic
1/2 tsp kosher salt
2 tbsp brown sugar
---
Pumpkin Bread with Candied Sage
With toasted walnuts, fresh sage, and a crumbly cinnamon sugar topping, these loaves are a perfect way to start the morning or to wrap a long autumn evening. We suggest serving the pumpkin bread with fresh butter alongside hot apple cider or hot chocolate.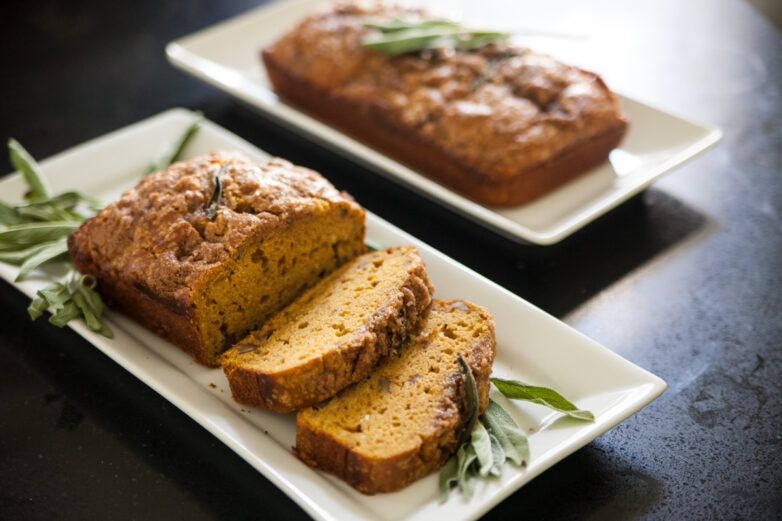 Pumpkin Bread with Candied Sage
1 hour 30 minutes
|
1 loaf
Ingredients
For the Topping:
5 tbsp. packed (2 1/4 ounces) light brown sugar
1 tbsp. all purpose flour
1 tbsp. unsalted butter, softened
1 tsp. ground cinnamon
1/8 tsp. salt
For the Bread:
2 cups (10 ounces) all purpose flour
1 1/2 tsp.s baking powder
1/2 tsp. baking soda
1 (15-ounce) can unsweetened pumpkin puree
1 tsp. salt
1 1/2 tsp.s ground cinnamon
1/4 tsp. ground nutmeg
1/8 tsp. ground cloves
1 cup (7 ounces) granulated sugar
1 cup packed (7 ounces) light brown sugar
1/2 cup vegetable oil
4 ounces cream cheese, cut into 12 pieces
4 large eggs
1/4 cup buttermilk
1 cup walnuts, toasted and chopped
1 tsp fresh sage, minced + 6-8 leaves for garnishing the loaves
2 tbsp turbinado sugar for garnishing the loaves
---
Rosemary Pumpkin Seed Brittle
Peanut brittle is a traditional holiday favorite, but pumpkin seed brittle is a fun way to add a little something new to the abundance of sweets found on buffet tables and in goody bags this time of year. Rosemary adds a woodsy winter scent, and pumpkin seeds are wholesome yet light. Delicious with a cup of good coffee or tea, this brittle is also a thoughtful gift when wrapped up in parchment paper and tucked into a festive tin.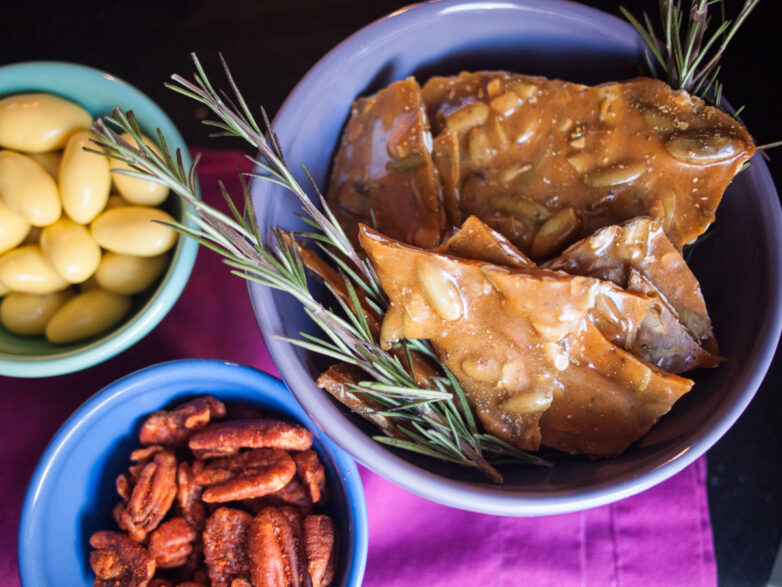 Rosemary Pumpkin Seed Brittle
Ingredients
Nonstick vegetable oil spray
1 cup granulated sugar
1/2 cup light corn syrup
3 tbsp water
1 cup roasted pumpkin seeds
2 tbsp unsalted butter
1 tsp kosher salt
1 tsp fresh rosemary, finely minced
3/4 tsp baking soda
---
Pumpkin Sundae with Sage Caramel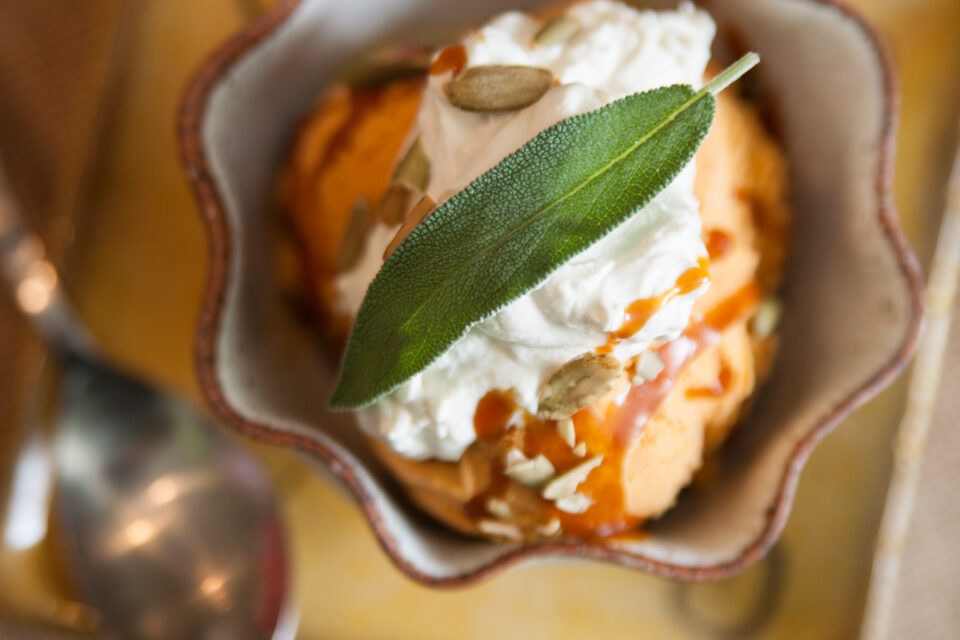 This pumpkin sundae makes the most of fresh sage combining it with a deep, amber salted caramel sauce for a festive finale to any holiday meal. Whipped cream sweetened with brown sugar and a sprinkling of salted pepitas, or pumpkin seeds, adds a finishing touch that takes store-bought pumpkin ice cream to the next level.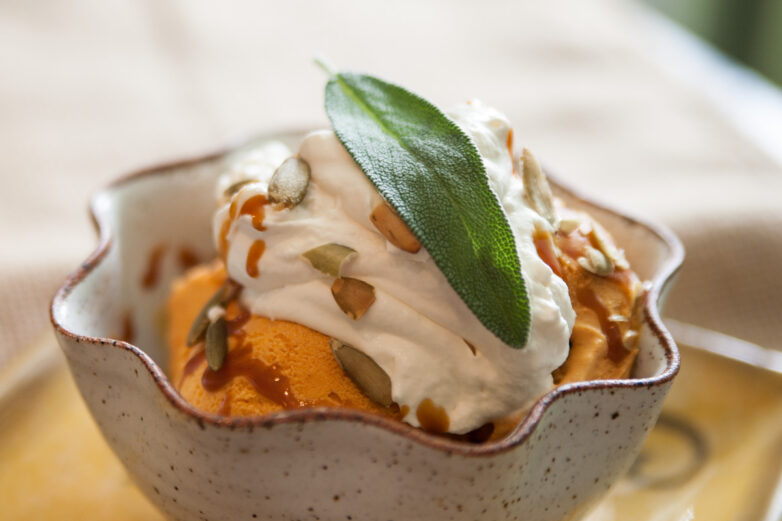 Pumpkin Sundae with Sage Caramel
Ingredients
For the Sage Caramel Sauce:
1 cup granulated sugar
2 sage leaves
1/2 cup cream
1/2 tsp salt
For the Whipped Cream:
1 cup whipping cream
1 tbsp brown sugar
For Garnish:
Salted, roasted pumpkin seeds
Extra fresh sage leaves
---
Pumpkin Pie with Rosemary Crust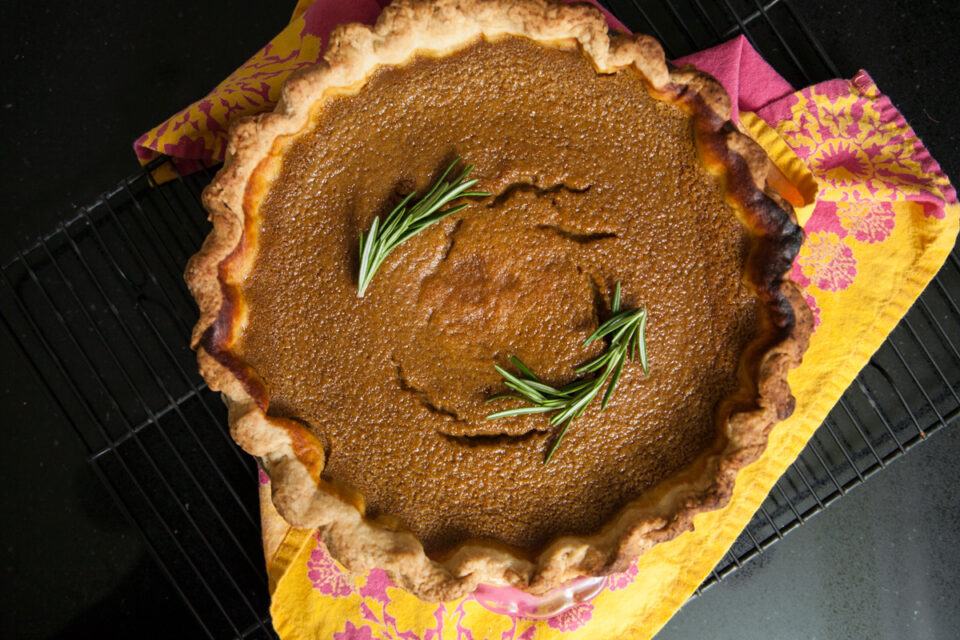 With all the cinnamon, nutmeg, ginger, and cloves that makes pumpkin pie such a festive holiday favorite, this recipe gets an extra-silky rich filling by browning the pumpkin puree and adding four whole eggs, whole milk, and plenty of cream. What makes this pie stand out is the rosemary in the crust.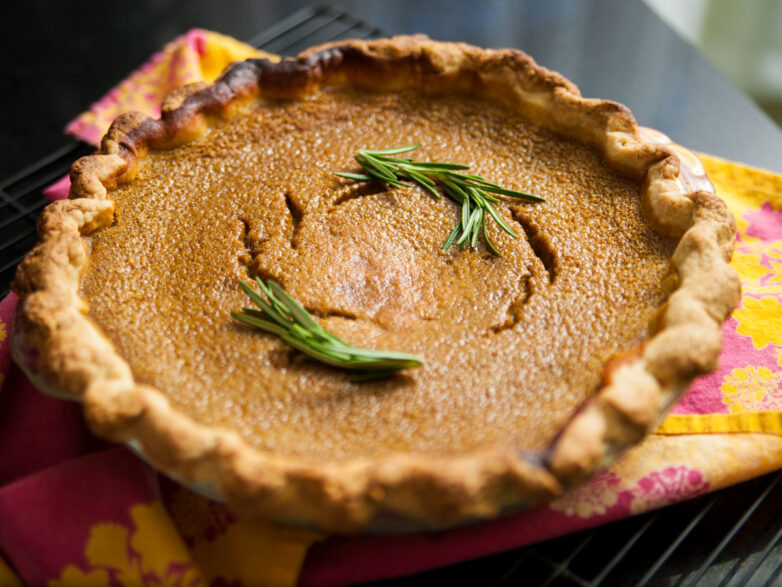 Pumpkin Pie with Rosemary Crust
1 hour 20 minutes
|
1 pie
Ingredients
Rosemary Crust:
1¼ cups all-purpose flour
½ tsp kosher salt
1 tbsp sugar
2 tsp fresh rosemary, minced
6 tbsp cold, unsalted butter
1/4 cup cold vegetable shortening
1/2 cup cold vodka
Pumpkin Filling:
2 cups canned pumpkin (NOT canned pumpkin pie filling)
1 cup brown sugar
2 tsp ground ginger
2tsp ground cinnamon
1 tsp ground nutmeg
¼ tsp ground cloves
½ tsp kosher salt
2/3 cup heavy cream
2/3 cup milk
4 large eggs