Decorate Easter Eggs with Fresh Herbs
This year, why not bring some scrappiness to Easter? Eco-friendly & fun – what could be better? Try using onion skins to naturally dye your hard boiled eggs! We'll even give you some tips on how to make them eggstra special with some fresh herbs. Move over Easter Bunny, we have a new star in town!
You will need:
12 eggs, white or brown
3 packed cups of dry onion skins – a mix of yellow and red skins are best!
4 or more cups of water to cover your eggs in the pot
2 tablespoons of vinegar
1 nylon stocking
As many herbs as you need to fulfill your decorating needs!
Optional:
Small rubber bands
Vegetable, olive or coconut oil if you want to be extra
Instructions:
Take your stocking – remember when we would actually wear these?? Cut them into 5 inch squares.
Prep your eggs by putting a drop of water on the egg then lay your preferred herb onto it. The water will help that herb stick in place!
Remember those stocking squares? Wrap your egg with its new herb friend gently in the stocking and tie it at each end. You can make a knot, or if you prefer, use a rubber band.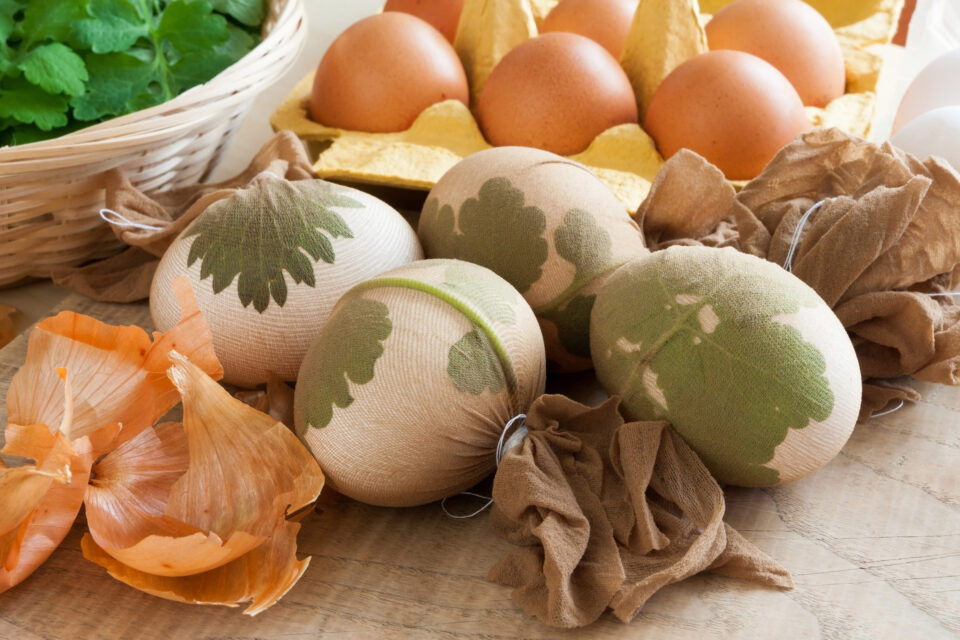 Now it's time to add the onion skins and vinegar to a big pot and cover with water. Bring to a boil and let it simmer for about 10 minutes.
Add your eggs to the boiling water gently, one by one, and boil for 8 to 10 minutes – or to your liking. We aren't judging those soft-boiled egg lovers!
Allow your concoction to cool completely. After cool, you can remove the eggs. For a deeper color, keep the eggs in the mix for longer. Overnight makes for a spectacular color!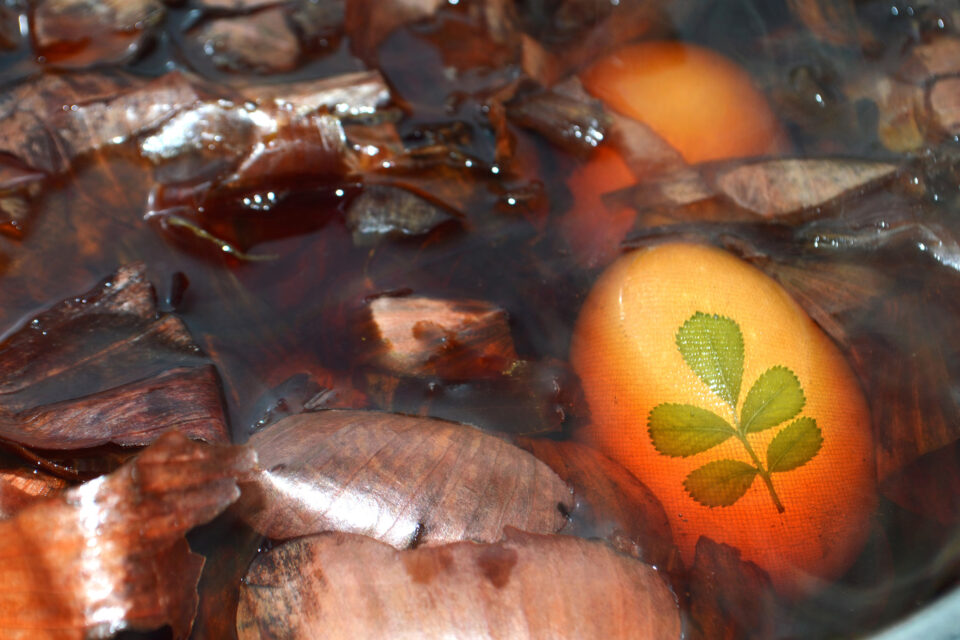 Once dyed to your satisfaction, and when eggs are cool enough to handle, you are free to release them from their stocking! After cutting them out, discard the herbs and pat the eggs dry with a paper towel.
To make your eggs shine, no like literally shine, rub them with a little oil of your choice.
Now pat yourself on the back! You're an egg artist!
Enjoy with friends or family. OR yourself. We won't tell!