How to Make an Autumn Cobb Salad
Our Autumn Cobb Salad is full of flavor without the fuss. Serve as a main dish or side salad and watch it quickly disappear. We've loaded ours with grilled chicken, crunchy bacon, hard boiled eggs, roasted sweet potato cubes, juicy apples, crisp celery, toasted pecan halves, tart dried cranberries, velvety blue cheese crumbles and topped it all off with a Dill-Dijon Vinaigrette. It's a great option when you need to make a meal in advance. All you need to do is prep the ingredients ahead of time then toss together when you're ready to eat. The final presentation is pretty enough for guests, yet preparation is simple enough to serve as a weekday lunch or dinner.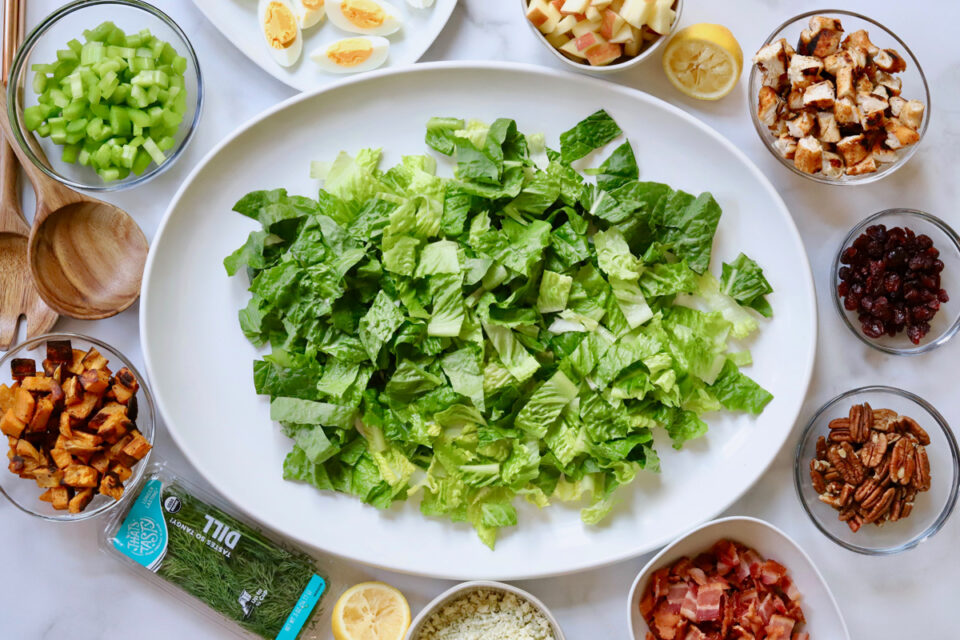 This decorative salad has got it all! Overflowing with so many delicious ingredients, you're guaranteed to receive rave reviews from all of your friends and family. Watch how easy this Autumn Cobb Salad comes together in our latest video! We've even included a dill-lightful homemade dressing that'll make your taste-buds swoon. You're going to love each and every bite of this combo, we promise!
If you have access to That's Tasty's new line of Local Organic Lettuces, we encourage you to try them out! Our Crunchy & Sweet Organic Romaine and Heirloom Crunch work perfectly in this recipe. Currently they are available in the Mid-Atlantic Region; though we are rolling them out nationwide in 2020.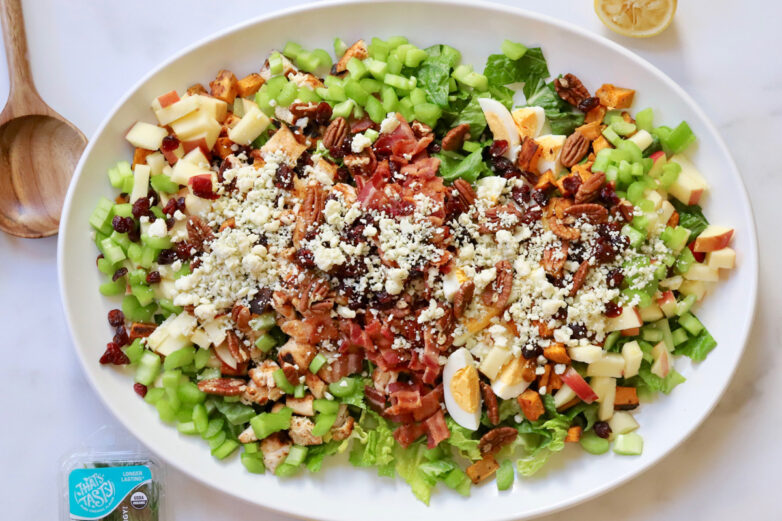 Autumn Cobb Salad
Ingredients
For the Salad:
6 cups chopped Greens (Romaine, Arugula, Spinach)
1 lb. Chicken Breasts or Tenderloins, cooked & chopped
8 slices Bacon, cooked & crumbled
4 Hard Boiled Eggs, sliced in half
1 Sweet Potato, sliced & roasted
1 Apple, cored & cut into cubes
4 ribs diced Celery (about 1 cup)
½ cup Roasted Pecan Halves
½ cup Dried Cranberries
¾ cup Blue Cheese Crumbles
For the Dressing:
3 tbsp. Bacon Drippings
1/4 cup Extra Virgin Olive Oil
Juice from 2 Lemons
2 tbsp. Fresh Organic Dill, chopped
1 tsp. Dijon Mustard
1 tsp. Fresh Lemon Zest
1 tbsp. Minced Red Onion
Squeeze of Organic Garlic Purée (about 1 tbsp.)
1 tsp. Kosher Salt, to taste
1 tsp. Freshly Cracked Black Pepper, to taste
1 tsp. Brown Sugar, to taste