Bagel Sandwiches with Harissa Cream Cheese
This easy bagel sandwich is perfect for breakfast, lunch, or even dinner! Fully-loaded with a variety of veggies, this beast of a sandwich is easily customizable and allows you to eat the rainbow!
That's Tasty Organic Purée's are a bagel's #1 wingman. In addition to our harissa spiked cream cheese, try swirling our Garlic Purée into hummus! We love hummus + turkey on bagels for an on-the-go lunch. Another great idea is to toss our Italian Herbs Purée with cherry tomatoes and serve them over a toasted bagel with melted mozzarella. Hello easy-peasy, caprese bagel pizzas! Feel free to make your own creation with our line of purées, we'd love to see your creations on social. Make sure to tag us so we can follow along!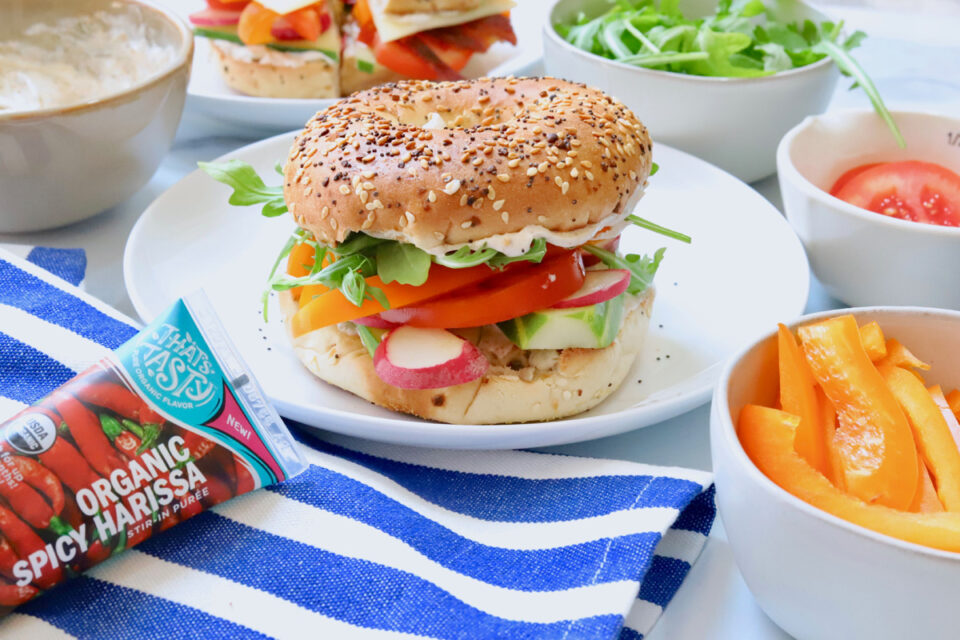 In today's recipe spotlight, we decided to highlight our Organic Spicy Harissa. Fiery goodness is always a genius idea in the morning, as it'll wake you up and give that extra zing to seize the day. As for the veggies in this sandwich, that's really your call. We love the combo of cool cucumber, crunchy radish, juicy tomatoes, vibrant peppers, and peppery arugula… but feel free to get creative and substitute where you feel necessary. Want to take it to the next level? Other ingredients we love include: avocado, bacon, cheese, eggs, grilled chicken, lox, micro greens, red onions, and spinach.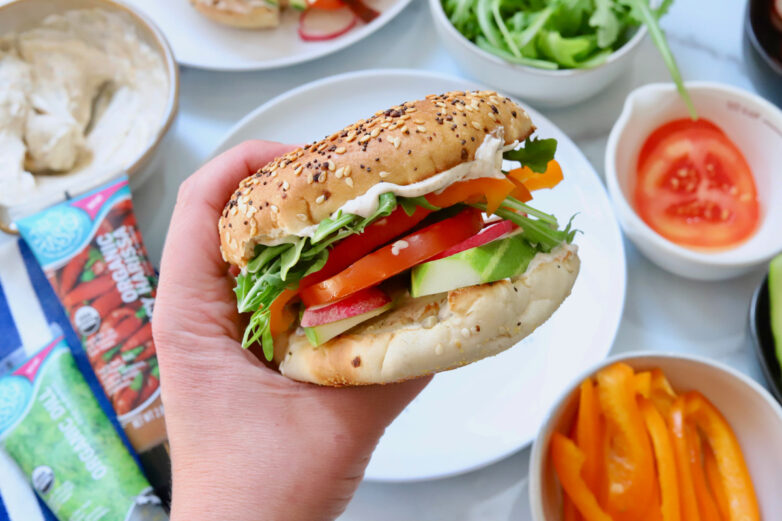 Eat the Rainbow Bagel Beasts
Ingredients
2 Bagels, split and toasted
8-ounces cream cheese
2 tbsp. Organic Spicy Harissa Purée
1 tsp. Organic Dill Purée
1 Bell Pepper, sliced
1 Cucumber, sliced
1 Tomato, sliced
3 radishes, thinly sliced
1 cup Organic Arugula