Colorful Roasted Vegetables
Don't let the warm weather months parsley by without making these Citrus Roasted Seasonal Vegetables! Healthy and jam-packed with flavor, this one-sheet wonder will outshine all other side dishes at your dinner table.
This amazing recipe gets it's zing from a marinade that's made with fresh citrus juices and our 100% Organic Parsley Purée. This resealable tube of awesomeness is perfect for flexible portions, so feel free to add as much as your taste buds prefer to marinades, veggies, your favorite cookout meats, and more!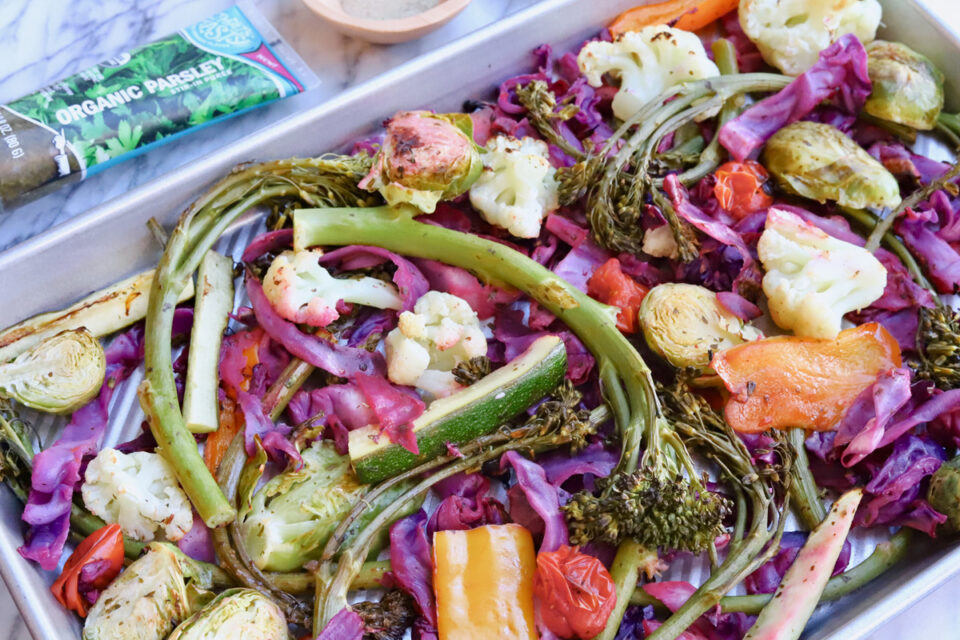 We're not like other pureés on the market. Our pureés are made with absolutely no preservatives. Say what? Hip-Hip, PURE-YAY! When you're looking for a clean, organic option to serve your family and friends, we've got you covered! There's nothin' to hide here – just take a look at our list of high-quality ingredients.
Organic Parsley, Organic Sunflower Oil, Organic Extra Virgin Olive Oil, Unrefined Mediterranean Sea Salt, Organic Lemon Juice Concentrate, Organic Apple Cider Vinegar, Xanthan and Guar Gums.
See any junk in there? Nah… we've got better things to do with our time. Speaking of time, our line of purées last up to 6 months in the refrigerator after opening, so fresh herbal flavor is always just a squeeze away.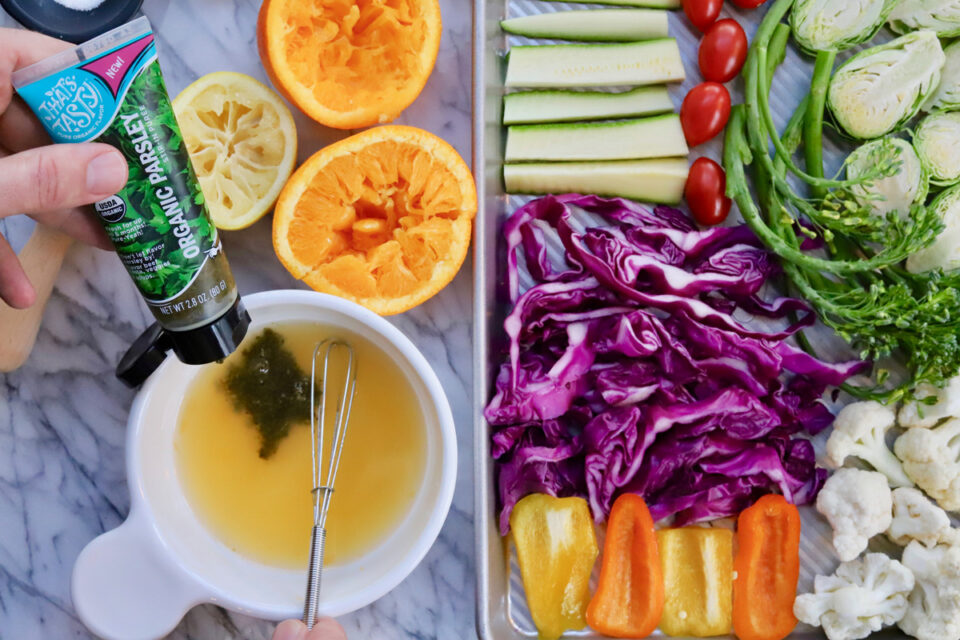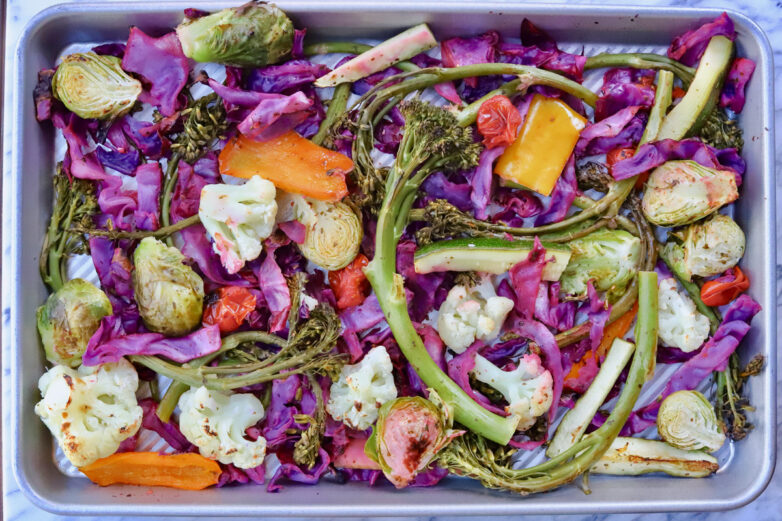 Citrus Roasted Summer Vegetables
Ingredients
Marinade
Juice of 1 Orange
Juice of 1 Lemon
1 – 2 tbsp. Parsley Puree, to taste
Pinch of Salt
Pinch of Ground Pepper
Sesame seeds, optional
A mix of 4 cups Non-starchy Veggies. We suggest the following:
Red Cabbage, thinly sliced
Bell Pepper, sliced
Chopped Cauliflower
Zucchini
Cherry Tomatoes
Broccoli or Broccolini
We can't think of a more perfect side dish than these roasted vegetables. They pair well with just about anything and you can always swap out whatever vegetables you prefer (just remember, starchy vegetables will take longer to cook). Your family will be rooting for you!