Mint Chocolate Chip Hot Cocoa Bar
Baby it's cold outside… warm things up with a Hot Cocoa Bar!
Our Mint Chocolate Chip Cocoa is so rich and flavorful, it'll have your kids cheering "Ho-Ho-Ho for Hot Cocoa".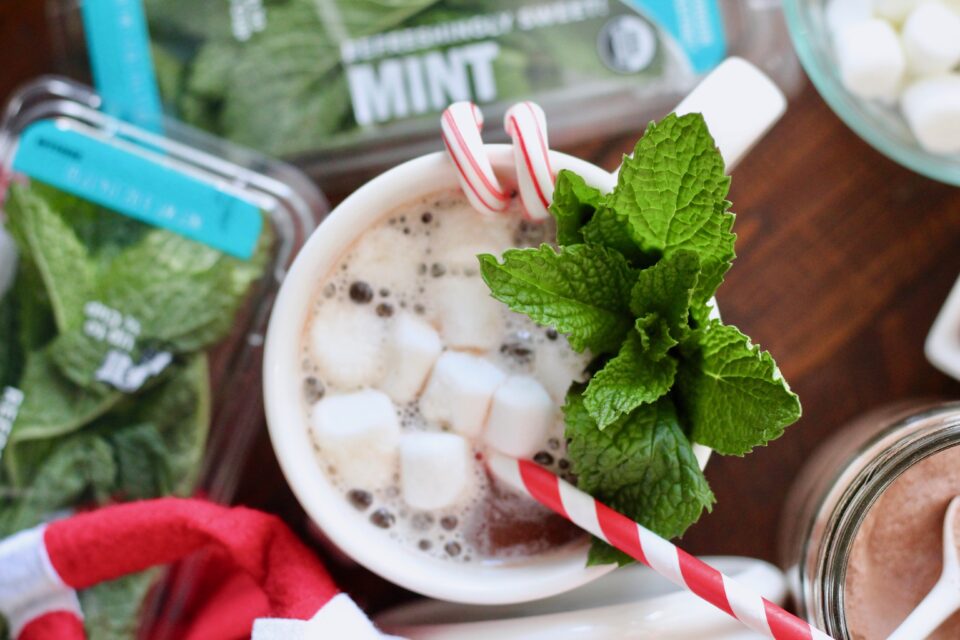 Raise your hand if you're a fan of ooey-gooey, rich and creamy hot cocoa? Add some festive toppings along with a garnish of fresh mint leaves, and you've got yourself a TASTY treat. There's nothing more satisfying than slurping down a giant mug of hot chocolate goodness on a cold winter day.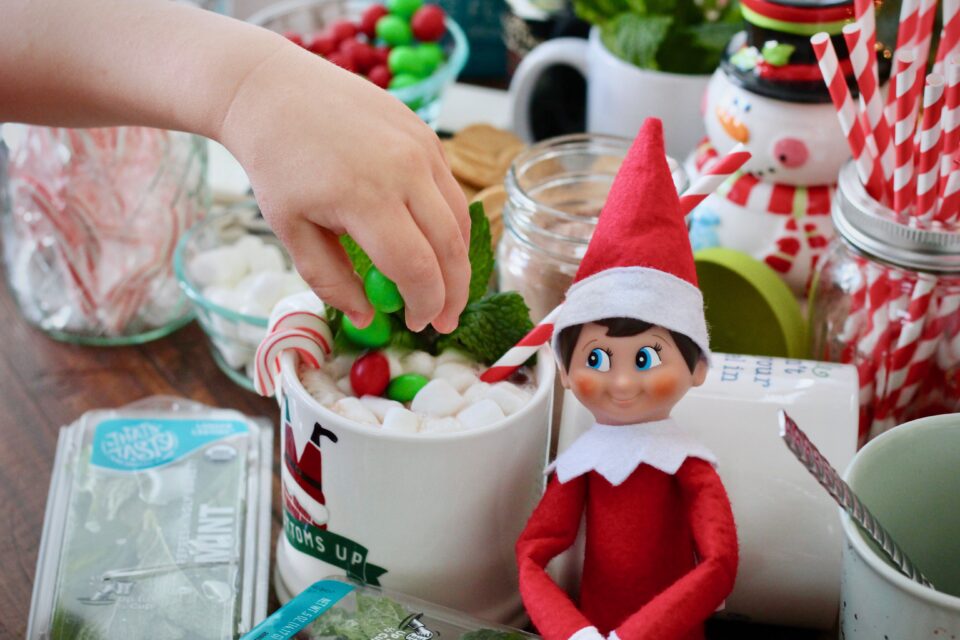 Supplies you'll need to make an everyday hot cocoa bar:
There's no right or wrong way to set up a hot cocoa bar… these are just a few suggestions. Have fun with it.
Mugs in various sizes
Hot Cocoa (we have an easy recipe below!)
Fresh Mint Leaves
Marshmallows
Whipped Cream
Candy Canes
Chocolate Chips or Candy
Graham Crackers
Cookies
Sprinkles
Fun Straws
Spoons & Napkins
Ahem… and for adults who are tired of rearranging their Elf on The Shelf around the house, we've included a bottle of Baileys for your sippin' pleasure.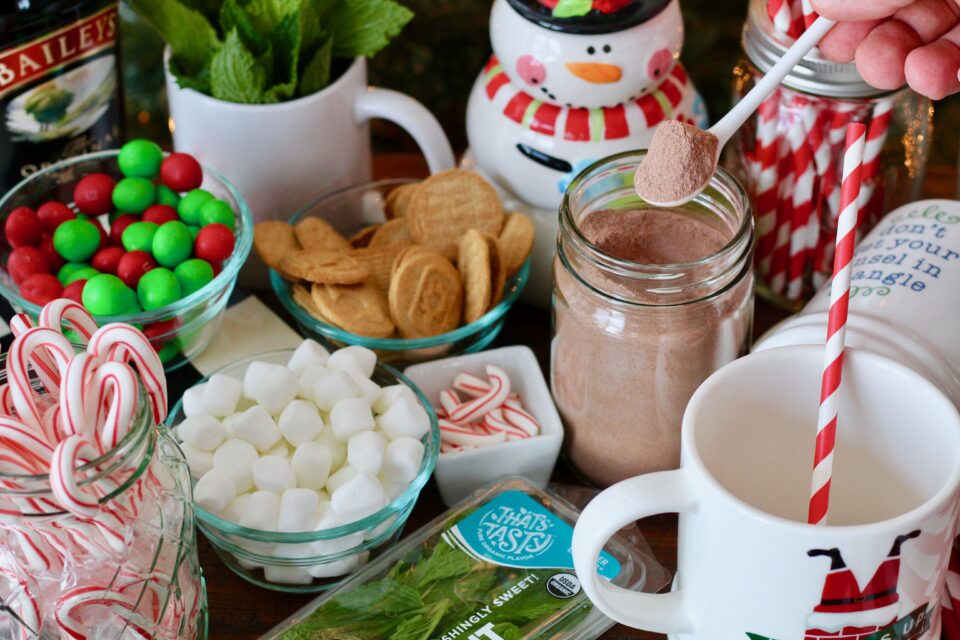 If you want to get fancy and skip the pre-packaged hot chocolate packs: whip up a batch, from scratch, with just four ingredients. Simply place all elements in a mason jar and shake it up.  
½ cup Natural, Unsweetened Cocoa Powder
2 cups Instant Dry Milk
1 cup Granulated Sugar
¼ tsp. Salt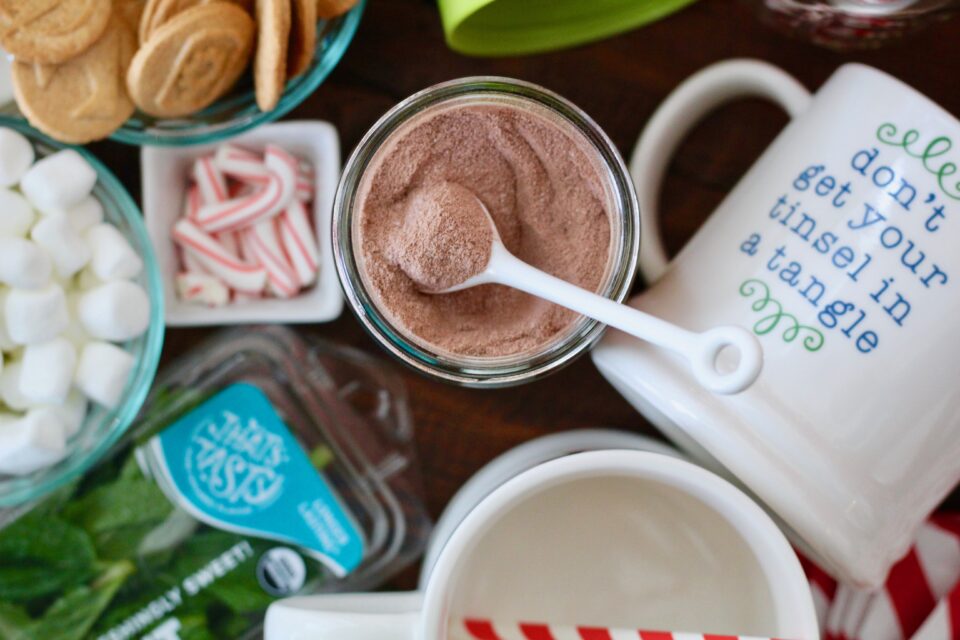 Mint Chocolate Chip Cocoa
Makes 2 servings
Ingredients:
2 cups Water
½ cup Hot Cocoa Mix (recipe above)
10 That's Tasty Mint Leaves
Chocolate Chips or Candy, for garnish
21+ Adult Option: 1 shot of Baileys Irish Cream (each)
Directions:
Bring water to a simmer in a sauce pot over medium-high heat.
Add mint leaves and remove from heat. Cover and let steep for 10 minutes.
Remove mint leaves and reheat to a simmer.
Pour hot cocoa blend in two mugs (put ¼ cup in each mug). Pour water over the cocoa blend and stir with a spoon until well combined (add Baileys here, if applicable).
Garnish with fresh mint and suggested toppings from the hot cocoa bar.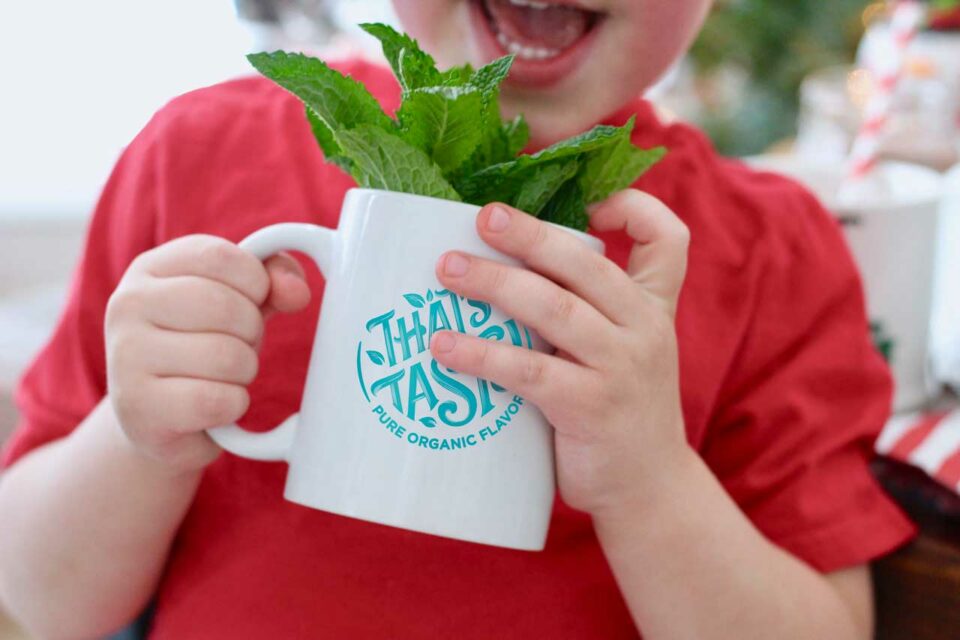 ---
Did you make this recipe?
Tag @thatstastyorganic on Instagram and hashtag it #thatstastyorganic.
Oh… and make sure to check our flavor finder so you can sniff us out in your neck of the woods.