Bourbon Sour with Thyme Simple Syrup
The holidays are near, and they serve as the perfect excuse to explore a few boozy recipes. This Bourbon Sour needs to be a staple in your cocktail rotation. It's a great way to kick back and relax on a crisp autumn day.
Bourbon and fall weather are made for each other.
You know that warm and fuzzy feeling you get during the holidays? Yeah… that's bourbon. Stimulating yet simple, this crafted cocktail will really get your motor going.
Isn't she purdy?
This party-in-your-mouth features thyme simple syrup, which is an excellent addition to your liquor cabinet.
It adds an herbaceous kick to several recipes and is crazy-easy to make. Simply bring equal parts of water and honey to a simmer in a small pot (for example, ½ cup of each). Stir frequently until the honey has dissolved. Remove from heat and add 3-4 sprigs of thyme; allow them to steep for at least 15 minutes. Remove sprigs and strain into a sealable container. Allow to cool to room temperature before using in a beverage.
Ingredients:
makes two cocktails
1.5 ounces Thyme Simple Syrup
1.5 ounces Fresh Lemon Juice
3 ounces Bourbon
1-2 dashes Angostura Bitters
Thyme Sprigs, garnish
Lemon Peel, optional garnish
Directions:
Add all ingredients to a cocktail shaker or mixing glass with ice.
Stir vigorously for 30 seconds.
Strain into cocktail glass and cheers! (Wasn't that easy?)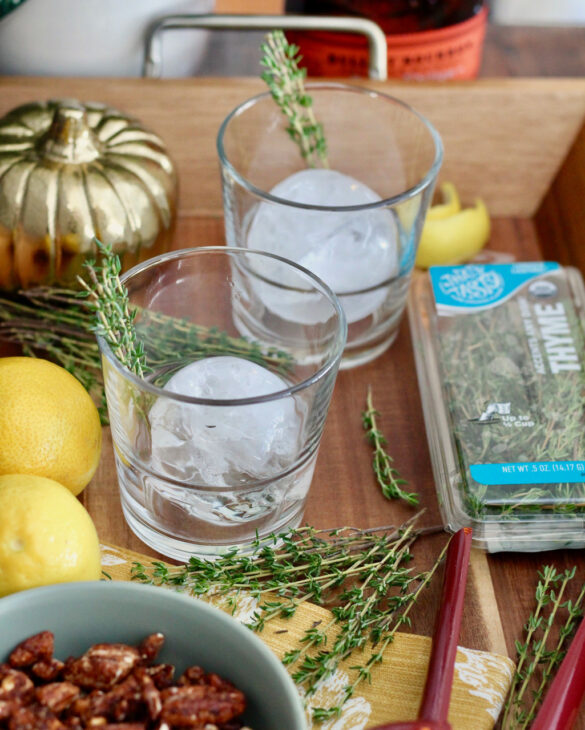 Notes:
This elixir can be served up in a martini glass or over ice in a tumbler. If enjoying over ice, we recommend using ice spheres (which melt slower than smaller ice options, plus they look awesome).
To please your palate, serve with sweet-spicy candied pecans on the side for munchin'.
This Bourbon Sour is not a low-proof cocktail, so it's important to use a good quality bourbon. Please drink responsibly.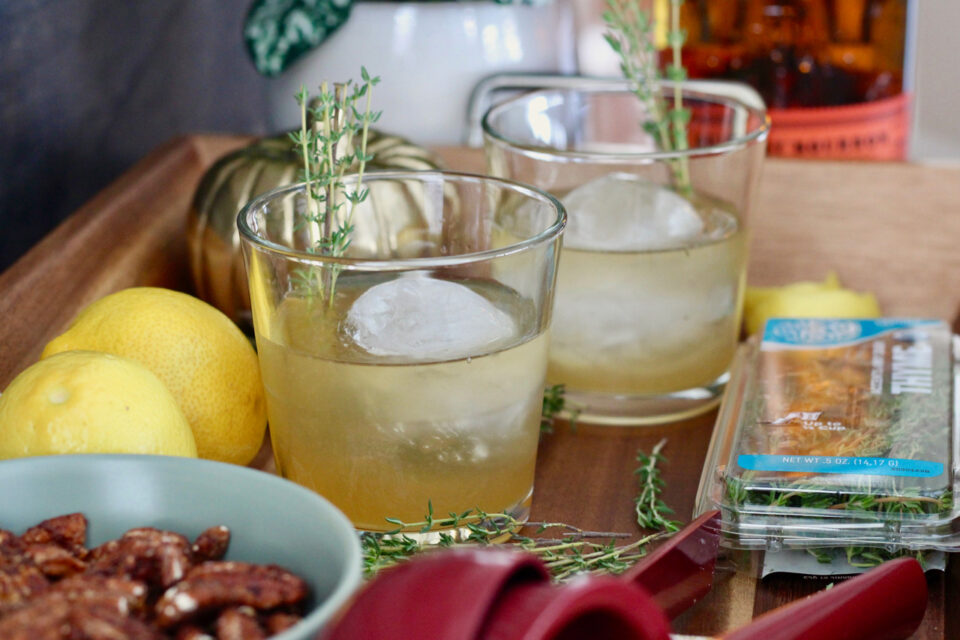 ---
Did you make this recipe?
Tag @thatstastyorganic on Instagram and hashtag it #thatstastyorganic.
Oh… and make sure to check our flavor finder so you can sniff us out in your neck of the woods.